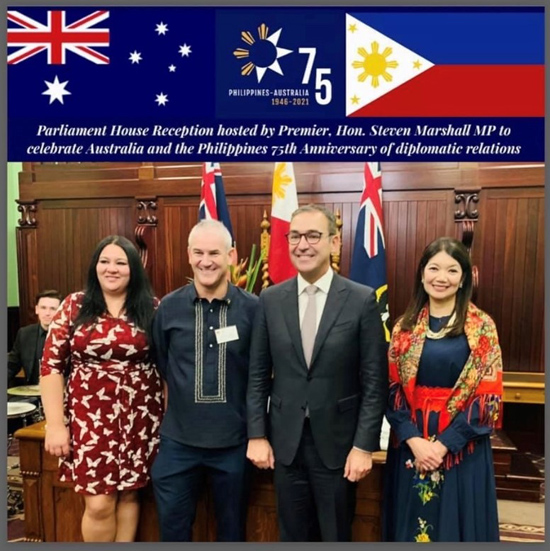 Photo credit: Official Facebook Page of Hon Jing Lee MLC https://www.facebook.com/jing.lee.parliament.sa.gov.au/
25 May 2021 –The Honourable Steven Marshall, Premier of South Australia, hosted a Parliament House Reception on 20 May 2021 to celebrate the 75th Anniversary of diplomatic relations between the Philippines and Australia. Honourable Jing Lee, Assistant Minister to the Premier and Mr. Peter Malinauskas, Leader of the Opposition joined Premier Marshall in welcoming the representatives of the Filipino Community.

Filipino Community representatives were led by Ms. Carmen Garcia, President of FILCCA and Mr. Ben-Hur Winter, Chair of the Filipino Coordinating Council of South Australia. The Philippine Government is represented by Philippine Honorary Consul (Mr.) Darryl Johnson.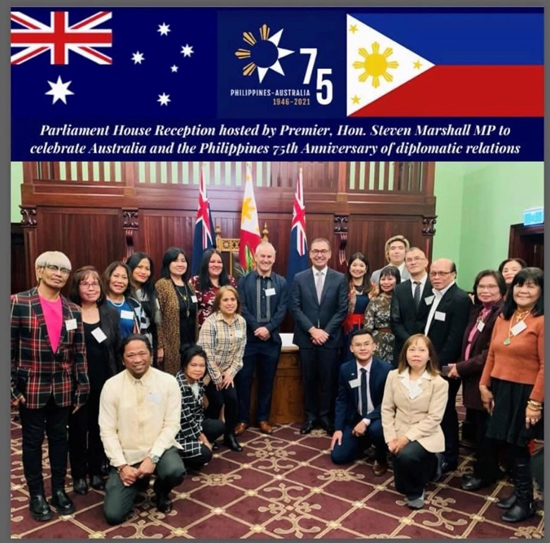 Photo credit: Official Facebook Page of Hon Jing Lee MLC https://www.facebook.com/jing.lee.parliament.sa.gov.au/