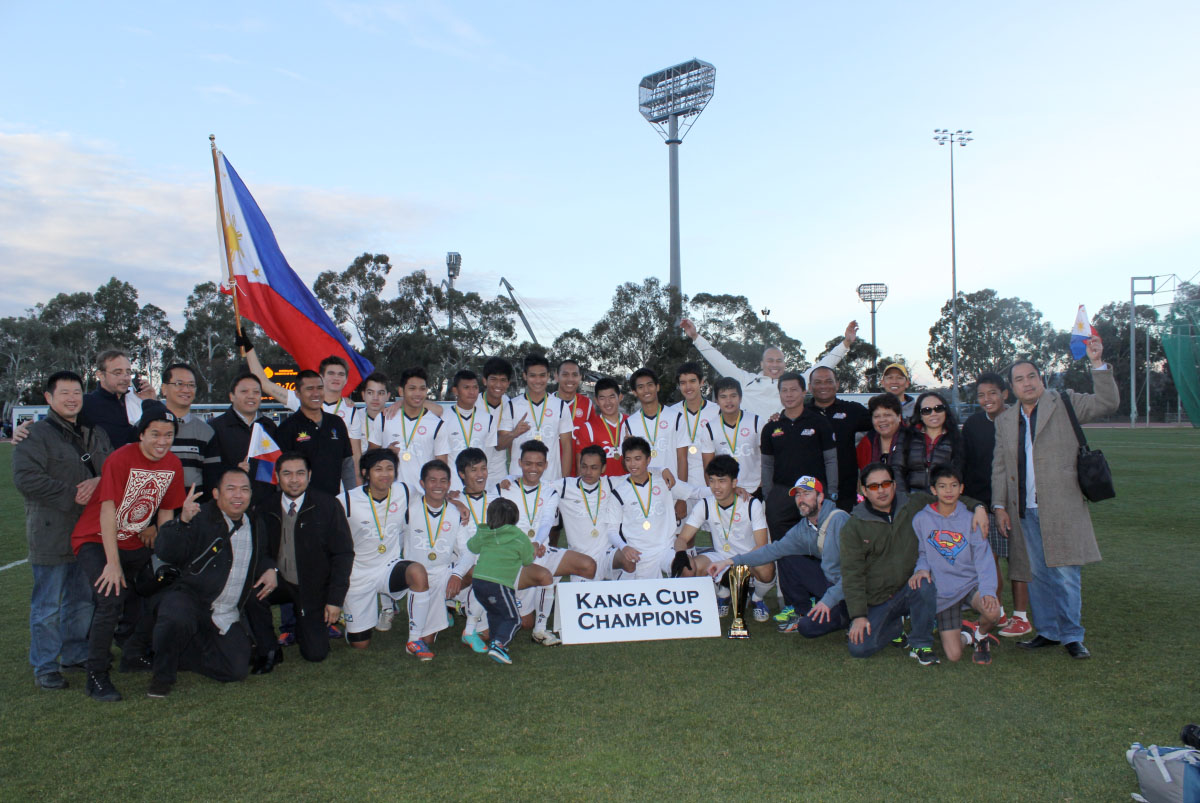 The Philippine Embassy proudly congratulates the Philippine Team Carranz Football Club for winning the 2013 Kanga Cup for the Under 18 division.
The Philippine Team bested the ACT's Capital Football Senior NTC with a score of 1 – 0 in today's championship game held at the Australian Institute of Sports, Canberra.
In her congratulatory message, Ambassador Belen F. Anota said that "The impressive win of Carranz FC underscores the natural affinity of Filipino for football and a testament to the agility, competitiveness, hard work and team spirit of our Teen Azkals."
The Ambassador expressed confidence that the recent success of the Philippine team "will encourage more Filipino youth to be involved in sports, particularly in football, to develop discipline and strength of character."
During the week-long Kanga Cup Tournament, the Philippine Team constantly displayed their passion and prowess for football. They won 4 out of the 5 elimination games and easily hurdled the semi-finals on 11 July, beating Queensland's John Paul College with the score of 6-0.
The Team is composed of Amani Aguinaldo (Striker/Defender, NCR), Harold Alcores (Right Wing, NCR), Arnel Amita (Midfield, NCR), Junell Bautista (Central Defender, Baguio), Nikko Benedicto (Midfield/Left wing, San Beda), Mark Besana (Defender/Midfield, Taytay), Nicholas Bollier (Central Defender, USA), Skie Doug Carranza (Midfield, Striker, Mandaluyong), Jaime Enzo Cheng (Goalkeeper, Mandaluyong), Jan Clarino (Midfield/Striker, San Juan), Raphael de Guzman (Goalkeeper, Cebu), David Diamante (Midfield, Davao), Van Rey Diaz (Defender, FEU), Daniel Gadia (Midfield, NCR), Kevin Hartmann (Midfield, Germany), Yoshiharu Koizumi (Striker/Both Wing/Midfield, Davao), Raphael Resuma (Striker/Right Wing), and Valentino Calvo (Midfiel).
During their visit to Australia, the Team was accompanied by Team Manager Alvin Carranza, Assistant Team Manager Ramon Manuel, Head Coach Marlon Maro, Assistant Coach Tomasito Glenn Hilig, and Goalkeeper Coach Noel Marcaida.
The annual Kanga Cup is the largest international youth football tournament in the Southern Hemisphere. This year's Kanga Cup was held from 7 – 12 July 2013.