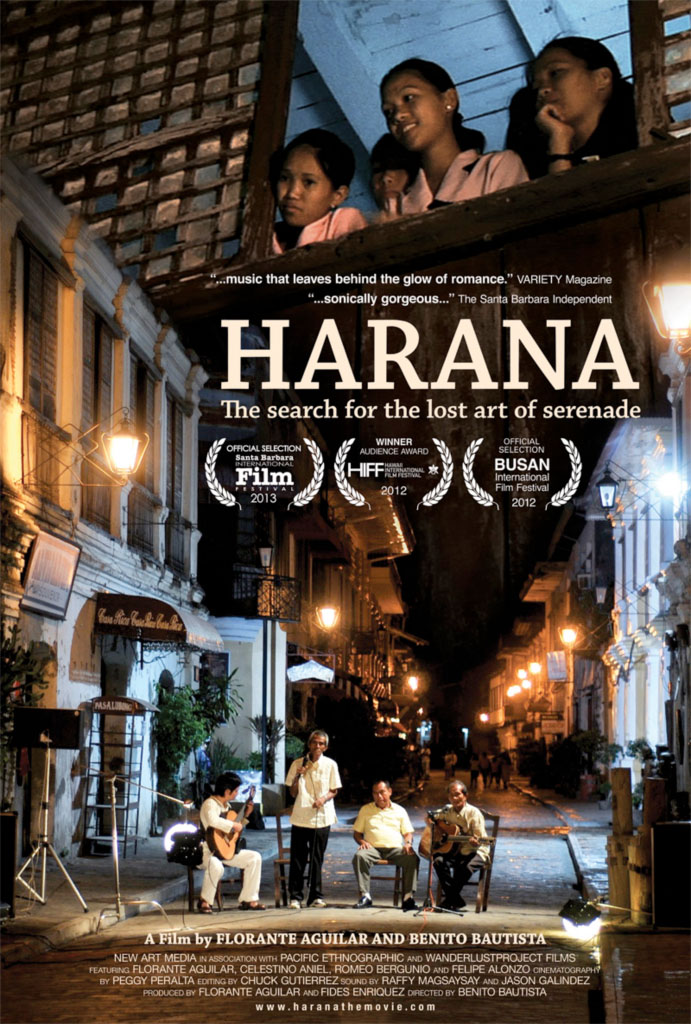 Long before the rise of text message and social network courtships, young men in the Philippines stood earnestly beneath the windows of the women they loved to profess their devotion. Supported by friends and accompanied by the town's finest guitarist, these young suitors crooned the night away in song until finally invited inside (or tragically rejected). Either outcome, the harana tradition, along with its music, has been rapidly vanishing in its home country where it was once an important part of the social fabric. This long-abandoned art of harana is brought to light in the award winning feature documentary HARANA.
Fresh from receiving the Audience Award at sold out screenings at the New Filipino Film Festival in San Francisco's Yerba Buena Center for the Arts and the prestigious Gawad Urian Award for Documentary in the Philippines, critically acclaimed documentary film HARANA will make its Australian premiere at the Melbourne International Film Festival taking place from July 25th through August 11th, 2013. Since its release in 2012, HARANA has participated at prestigious film festivals worldwide including Busan International Film Festival, Hawaii International Film Festival (Audience Award winner), Dubai International Film Festival, Santa Barbara International Film Festival, Seattle International Film Festival, and Cinemalaya Independent Film Festival. Co-Produced by Fides Enriquez and directed by Benito Bautista, the HARANA documentary chronicles world music guitarist Florante Aguilar's personal journey throughout remote parts of the Philippines in search for what remains of this musical tradition and its practitioners. During his travel, Aguilar meets Felipe Alonzo, Celestino Aniel and Romeo Bergunio, three men living simple lives in obscurity but who exemplify the definition of a true harana master. In a sincere effort to capture and preserve their melodies and stories, Aguilar plucks them from their humble surroundings and asks them to travel with him to perform, record, and resurrect unheralded songs.
Word quickly spread of these venerable men whose golden voices, warm and expressive style of singing touch the heart, culminating in a series of triumphant live performances. As Aguilar and the three haranistas captivate audiences from small villages to reputable concert halls, the men also connect deeply with the past and with one another. Along their symphonic odyssey, the group even aids a painfully shy young man serenade his longtime crush, producing one of the most genuine instances of harana ever captured on film.
Set against the picturesque Philippine countryside and atmospheric old towns, HARANA is a heartbreaking and inspiring love song to the practitioners and the sounds of a romantic, bygone era. Through this remarkable and heartfelt journey, the film becomes a celebration of music and a tradition that will once again ignite the passion and melodic treasure that is harana.
HARANA will be screened on: JULY 27, 2013 1:30PM, Australian Centre for the Moving Image 2, Federation Square/Flinders Street, Melbourne AUGUST 4, 2013 9:00PM, Australian Centre for the Moving Image 1, Federation Square/Flinders Street, Melbourne