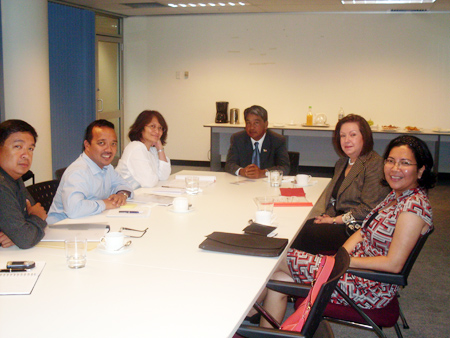 Ambassador Ernesto H. de Leon (middle) meets with the Sydney-based Representatives of the Departments of Trade and Industry, Tourism and Labor on 22 January 2009 at the Philippine Consulate General in Sydney. Seated at his left are Special Tourism Representative Consuelo G. Jones and Special Trade Representative Michelle Fatima S. Sanchez. At his far right is Philippine Labor Representative Victor Julio R. Ablan. Also in the picture are First Secretary Mary Anne A. Padua and Vice Consul J. Anthony A. Reyes.
Ambassador de Leon, accompanied by Ms. Padua, embarked on a one-day road trip from Canberra to Sydney to touch base with Philippine representatives. He expressed satisfaction at the good work they had done in 2008, and set the directions for 2009, in line with furthering agreements made during the Second Philippines-Australia Meeting (PAMM 2) held in Manila in October 2008. To this end, the Philippine representatives made valuable recommendations, for which Ambassador de Leon expressed his deep appreciation.
The group also exchanged views on enhancing coordination and linkages among the offices of the Philippine representatives, the Philippine Consulate General in Sydney and the Philippine Embassy in Canberra, in the spirit of the One Country Team approach.
Ambassador de Leon ended the day visiting the pleasant new offices of the trade and tourism representatives, which are located along the centrally located George Street.