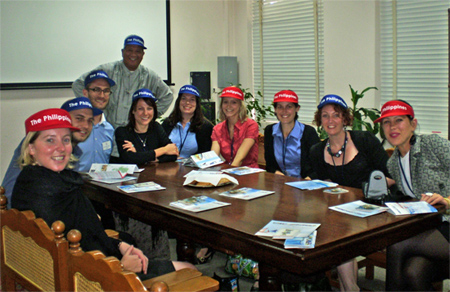 Nine young Australians visited the Embassy on 12 February before their departure for the Philippines. They form part of the group of 162 Australian Youth Ambassadors for Development program (AYAD), which places skilled young Australian volunteers, aged 18-30, on short-term assignments of between 3-12 months, in developing countries throughout the Asia Pacific region.
The program offers young people a wonderful opportunity to contribute to development while at the same time learning about other cultures.
Photo above shows the nine young AYADs: Phoebe Hardefeldt, Rachael Webb, Lea Czikowski, Jennifer Shedden, James Overall, Janet Sparrow, Julia Smith, Timothy O'Mahony and Shannon Smith; with First Secretary Norman Garibay (standing at the back), who gave the group a briefing on the Philippines. The tenth member Skye Liddell was not able to join the group in the Embassy visit. This is the first time the number of AYADs going to the Philippines has reached ten. The largest delegation was at eight, and earlier batches were lesser in number.
The Philippine-bound AYADs were sent-off the evening before at a cocktail reception hosted by the Foreign Minister, Mr. Stephen Smith at the King's Hall of the Old Parliament House, and were formally received by Ambassador Ernesto H. De Leon.