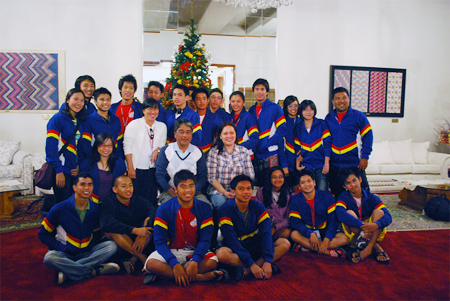 Ambassador and Madame Ernesto H. De Leon pose with the members of the Philippine swimming team participating in the Pacific School Games (PSG) being held in Canberra, which opened on 30 November and will close on Saturday, 6 December 2008.
The evening of 2 December 2008, the Ambassador and Madam de Leon welcomed the Philippine youngsters, their team manager, coaches and parents to an Australian barbie (barbeque) at the Official Residence. It was, of course, a Pinoy-flavored barbie complete with rice, which the children had missed a mere days after their arrival in the Australian capital.
The PSG is a sporting event involving school-age competitors from the Australian states and territories, as well as other invited countries, particularly from the Pacific Rim. While it has proven to be an effective scouting ground for future sporting and Olympic greats, its main aim is to promote goodwill and understanding among the youth of the Asia-Pacific region.
The Philippines has been participating regularly in the Games, missing only one PSG since its launching in 1982.
The Canberra event is the eight PSG.