PHOTO RELEASE
Philippine Embassy, Canberra

1 Moonah Place, Yarralumla, ACT 2600
www.philembassy.org.au    *Tel. No. 02-6273-2535*
---
PH EMBASSY INVITES NOMINATIONS FOR THE BBFI 2023 BAGONG BAYANI AWARDS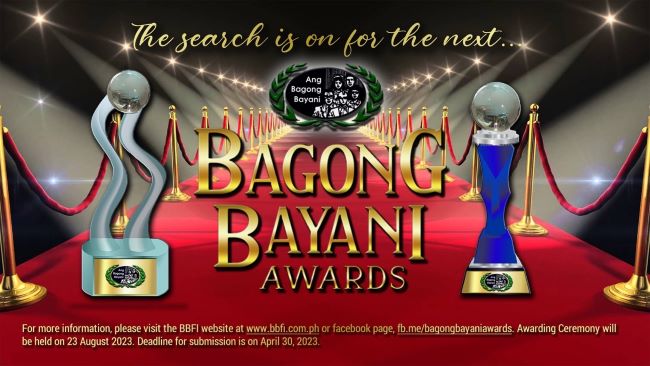 25 January 2023, CANBERRA – The Philippine Embassy invites the public to nominate outstanding and exemplary OFWs for the 2023 Bagong Bayani Awards organized by the Bagong Bayani Foundation Inc. (BBFI).

The Awards seek to recognize and pay tribute to our OFWs for their significant efforts in fostering goodwill, enhancing and promoting the image of the Filipino as a competent, responsible and dignified worker, and for greatly contributing to the socio-economic development of their communities and the Philippines as a whole. The BBA aims at providing proper recognition to deserving nominees, thus setting up examples for others to emulate, and for the country to be proud of.

An active OFW, whether land-based or sea-based maybe nominated on the following five (5) categories:

Bagong Bayani Award for Outstanding Employee

Bagong Bayani Award for Community and Social Service

Bagong Bayani Award for Culture and the Arts

Capt. Gregorio S. Oca Achievement Award

Blas F. Ople Award para sa Natatanging Bagong Bayani

Qualifications, requirements, and mechanics may be accessed through this link https://www.bbfi.com.ph/. Deadline for nominations is on 30 April 2022.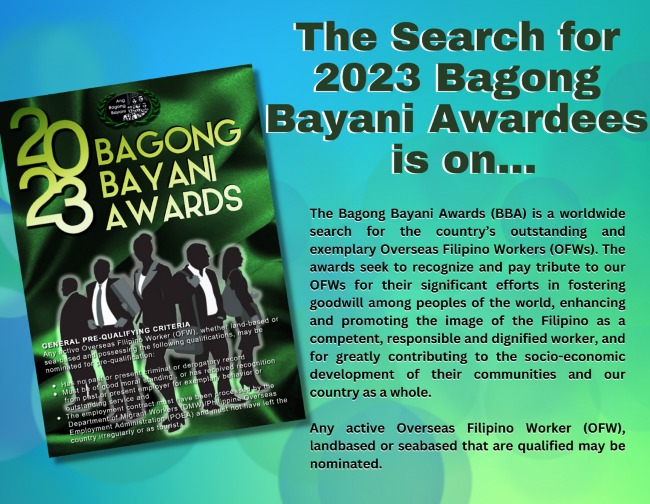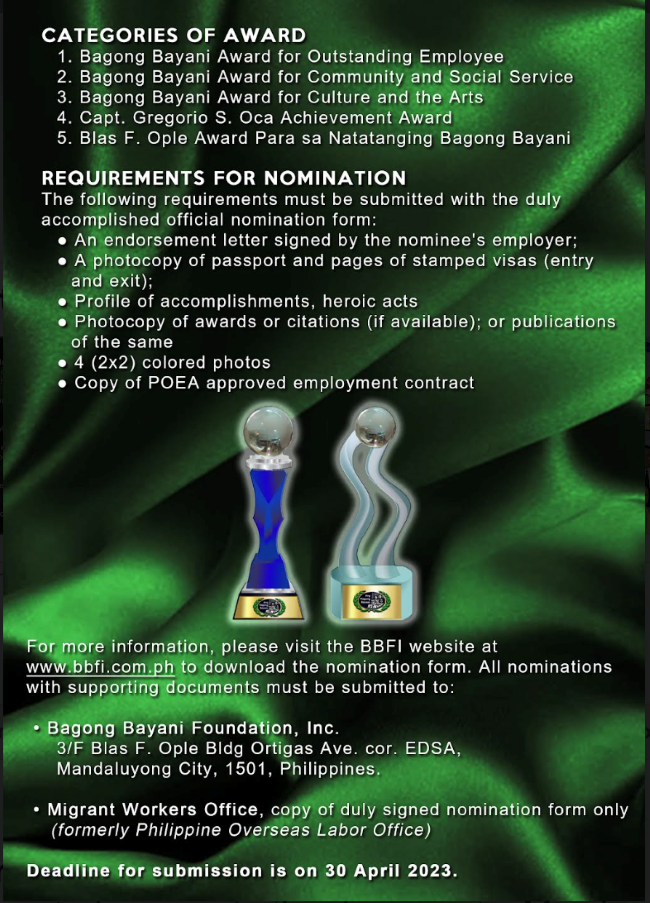 The BBFI is a non-profit organization, that works with the Department of Migrant Workers (DMW), Philippine Overseas Employment Administration (POEA), Overseas Worker Welfare Administration (OWWA) and the private sector in promoting the welfare of OFWs as well as the recognition and appreciation of the role of OFWs in the Philippine society and economy. -END-