PHOTO RELEASE
Philippine Embassy, Canberra

1 Moonah Place, Yarralumla, ACT 2600
www.philembassy.org.au    *Tel. No. 02-6273-2535*
---
PH Ambassador meets Filipino Tech Community Canberra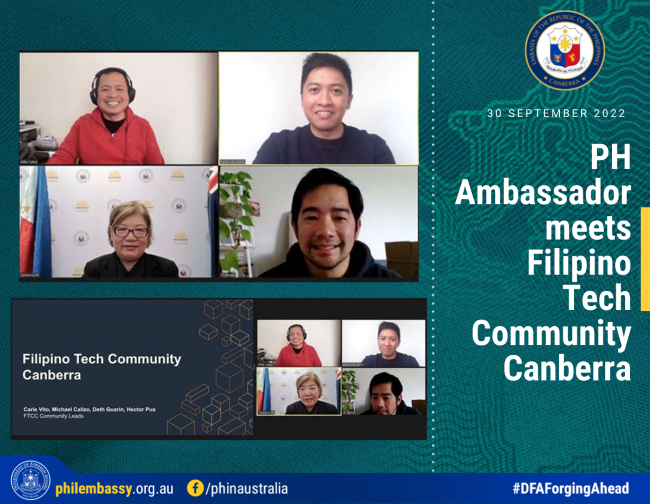 30 September 2022, CANBERRA – Philippine Ambassador to Australia Ma. Hellen B. De La Vega met virtually with the newly established Filipino Tech Community Canberra (FTCC) on 23 September. As part of its efforts to strengthen bilateral cooperation on science, technology and innovation, the Embassy of the Philippines in Canberra has been engaging the Filipino STEM community in Australia. In April this year, the Embassy organized an online forum on the Balik Scientist Program of the Department of Science and Technology and in September, the Embassy promoted Filipino maritime advocates.

Ambassador De La Vega said, "I am pleased that the growing tech community in Canberra decided to come together and strengthen our credentials as highly competent tech workers and movers." The Philippines is known for our rich talent pool with about 800,000 university graduates annually including in engineering and technology and IT-related disciplines.

FTCC is composed of experienced technology professionals and aims to provide a platform to network and collaborate within the Filipino tech community in the ACT and to support Filipino migrants and ACT residents wanting to start a career in information and communication technology.

Mr. Carie Vito, Mr. Michael Calizao, Ms. Mildred Guarin and Mr. Hector Pua currently serve as the Community Leaders of the FTCC. They thanked the Ambassador for the opportunity to meet and offered to lend their support to the larger Filipino community in Canberra.