PRESS RELEASE
Philippine Embassy, Canberra

1 Moonah Place, Yarralumla, ACT 2600
www.philembassy.org.au    *Tel. No. 02-6273-2535*
---
Ambassador De La Vega Visited Narromine Shire, NSW to Explore Economic and Employment Opportunities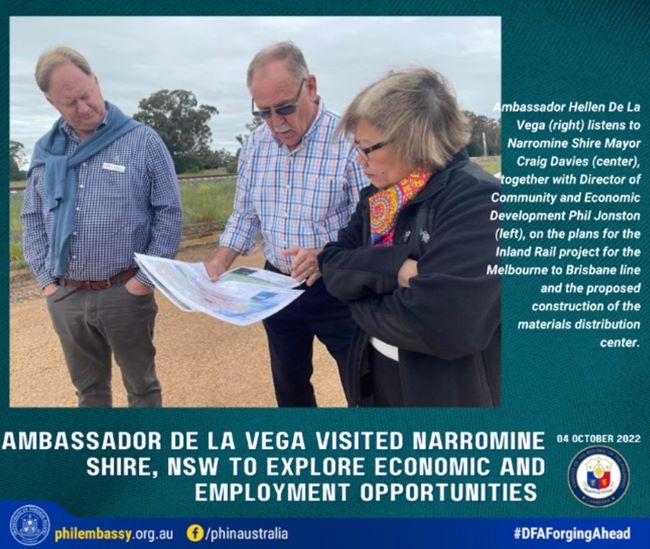 04 October 2022, CANBERRA – Upon the invitation of Narromine Shire Council, Philippine Ambassador to Australia Ma. Hellen B. De La Vega visited Narromine Shire on 27 to 28 September to learn more about the Inland Rail project, a key infrastructure initiative of the Australian Government to connect regional communities to domestic and international markets.

Narromine Shire Mayor Craig Davies briefed the Ambassador on the prospects for development and economic growth as the 1700 km Inland Rail traverses Narromine Shire to connect Melbourne and Brisbane, and the multimillion dollar material distribution center that will be built in view of Narromine's prominent and strategic location.

While in Narromine Shire, the Ambassador also met community leaders, businessmen and professionals, and visited manufacturing sites that demonstrate the potential of the shire for increased engagement with international partners. In particular, Mayor Davies conveyed their desire for Filipinos to be a part of the economic plans for the shire and support skills requirements in construction, mining, engineering and healthcare sectors.

Ambassador De La Vega recognized the potential of Narromine Shire in light of the infrastructure program and underscored Filipino talent and skills as a key asset of the country. She added that Filipino professionals have been supporting the growth of a range of industries in Australia and that the presence of Filipino workers in many parts of the world is underpinned by a robust migration and development system in the Philippines.

The invitation of Narromine Shire Council acknowledges the well-established reputation of Filipino skills and talent and their significant contribution to the progress of many communities across Australia. The Embassy reminds Filipino workers who intend to explore opportunities in Australia to be mindful of employment regulations of both countries and engage only with duly accredited organizations.