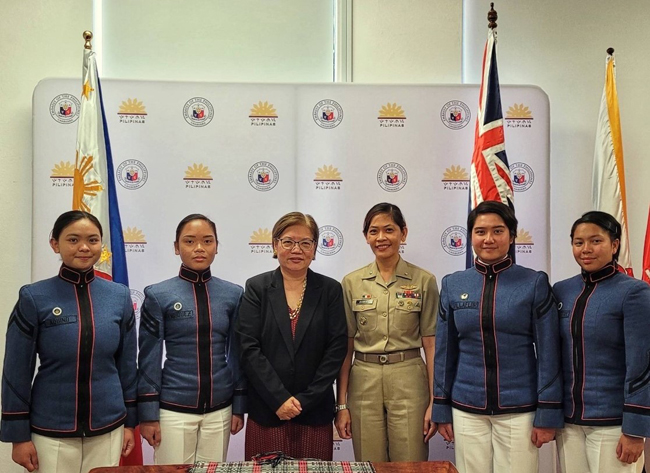 Left to right: Officer Cadet Ma. Theresa Aquino, Officer Cadet Aprilyn Enriquez, Amb De La Vega, LT Commander Aemy Leslie Damian, Officer Cadet Glice Laurene Villaflor, Officer Cadet Maria Denise Silvestre.
22 March 2022, CANBERRA – In celebration of the National Women's Month, Philippine Ambassador to Australia Ma. Hellen B. De La Vega met the lady officers of the Armed Forces of the Philippines (AFP) who are currently in Australia on scholarship on 18 March at the Embassy of the Philippines.
The Ambassador said she is pleased with the growing number of lady officers in the Philippine Military Academy and the AFP as well as those who are accepted for studies in Australia. The Philippines and Australia are working together to advance the agenda of women, peace and security in various international fora.
There are currently nineteen (19) AFP students and officers in Australian defence institutions as part of the long-standing defence cooperation of the Philippines and Australia. -- END