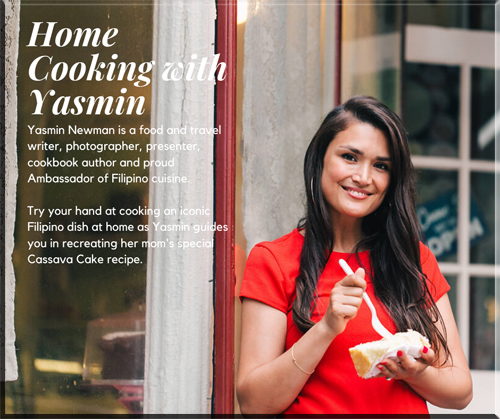 10 July 2020 – In celebration of the Philippine National Nutrition Month, the Philippine Embassy in Australia with the Department of Tourism in Sydney features Filipino-Australian food author Yasmin Newman at the online Cultural Gallery of the Embassy.
Yasmin's first cookbook, 7000 Islands: Cherished Recipes and Stories from the Philippines, published in 2013, was the first of its kind in Australia and has since been re-released in a new collector's edition. Her second title, The Desserts of New York (And How to Eat Them All) was published in 2017 to media acclaim. Her third cookbook, an evocative celebration of the Philippines and its food, is set to come out in 2021.
As a Filipina-Australian (her mother was born and raised in the Philippines, her father in Australia), Yasmin resides in Sydney and returns regularly to the Philippines, where she and her young family now have a second home.
In this video supported by the Department of Tourism in the Philippines, Yasmin teaches us her mom's cassava cake recipe. Yasmin says, "Growing up in Australia, my mum often made one of her favourites from home: cassava cake. Over the years, she became known as the 'cassava queen' for her delicious take on this classic Filipino dessert – set off with a scorched condensed milk caramel topping. At last year's Melbourne Food and Wine Festival, I served it with my own version of buko sorbetes, or coconut ice cream, and the combination is divine. Here's the recipe and you'll be surprised how easy it is to make!"
Watch the video at the Cultural Gallery through the link cultural.philembassy.org.au.
The Cultural Gallery is an online platform of resources curated by the Embassy for the Filipino-Australia community and anyone interested to learn more about the rich cultural heritage of the Philippines. We invite you explore this webpage for videos, photos and activities on Filipino cuisine, art, tourism, language and many more. END