PRESS RELEASE
Philippine Embassy, Canberra

1 Moonah Place, Yarralumla, ACT 2600
www.philembassy.org.au    *Tel. No. 02-6273-2535*
---
Ambassador De La Vega asked WA government and business to boost commercial ties with the Philippines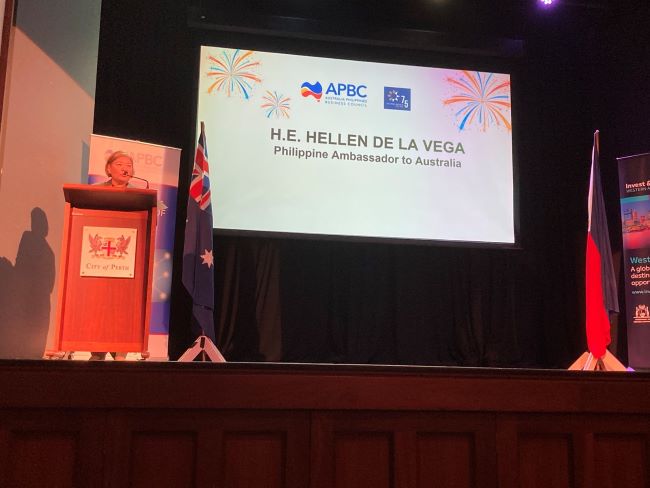 Ambassador De La Vega was a keynote speaker at the reception hosted by the Australia Philippines Business Council on 31 May 2022 at the Perth Townhall.
06 June 2022, CANBERRA – In a business reception held on 31 May 2022 at the Perth Townhall, Philippine Ambassador to Australia H.E. Ma. Hellen B. De La Vega said that the Philippines has surpassed its pre-pandemic GDP level with 8.3 percent GDP growth recorded in the first quarter of 2022. She also underscored the opportunities that the 110 million mostly young and digital population of the Philippines has to offer to Australian business. The Australia Philippines Business Council organized a reception to commemorate 75 years of diplomatic relations of the Philippines and Australia in 2021.

Western Australia Minister for Finance the Hon Dr. Tony Buti talked about the importance of the business and people to people ties between the Philippines and Western Australia and the efforts of Western Australia to expand its business ties with Southeast Asia.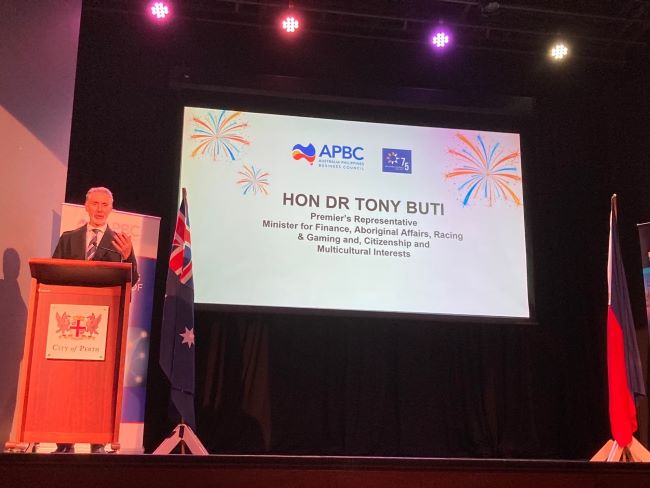 Representing Premier Mark McGowan of the government of Western Australia, the Hon Dr Tony Buti, Minister for Finance, addressed the business community at the reception on 31 May at the Perth Townhall.
About 180 guests attended the event composed of business leaders, representatives of universities in Perth, and Filipino business owners. Western Australia Minister for Environment and Climate Action Hon Reece Whitby; Mr. Kevin Michel, Member of the Legislative Assembly; Perth Councillor Sandy Anghie; and, District Court Judge Natalie Whitby also attended the event.

Western Australia accounts for more than 50 percent of the total merchandise exports of Australia to the Philippines. Several companies headquartered in Perth have presence in the Philippines such as Austal, Peppermint Innovation and RTG Mining. -- END