24 March 2023 - The Philippine Embassy in Canberra will conduct a Mobile Consular Mission to Darwin, Northern Territory on 16-18 May 2023.
The Mission will serve passport applicants and administer the oath of allegiance to petitioners for dual citizenship who have received approval letters from the Embassy.
Passport Application
The passport appointment slots will be made available at 6:00PM(Darwin time) on 22 April 2023 (Saturday) through the DFA's Global Online Appointment System (GOAS) which can be accessed by copying this link and pasting it on your browser: https://www.passport.gov.ph/appointment
Please read and follow all instructions in accomplishing the booking form so that your appointment will not be invalidated. Please expect that most of the slots would be filled up quickly.
Payment is not required to secure an appointment and documents are no longer required to be mailed to the Embassy. It is illegal to transact with 'fixers' in order to schedule an online appointment.
In consideration of other applicants, multiple bookings for one client is prohibited. If the system detects multiple bookings for one person, all the bookings will be cancelled.
The Embassy is unable to accommodate walk-in applicants during the dates of the mobile consular mission. All appointment slots are expected to be fully-booked online and mindful of COVID19 safety guidelines.
The Embassy also wishes to remind the public of the following:
If your passport is not yet expired, you may contact the Philippine Consulate General in Darwin to apply for a one-year passport extension at least one (1) month before the expiry date of your passport. This service can be done by mail and does not entail personal appearance at the Embassy/ Consulate. A passport that has been extended once can be further extended for another year at the Philippine Embassy in Canberra, with applications also accepted by mail. Philippine passports that have been extended twice can no longer be extended further. Please note that an extended Philippine passport may be used for direct travel to the Philippines but it is not recommended for travel to other countries.

For those with expired passports, year-round passport renewal services continue to be available at the Philippine Embassy in Canberra and the Philippine Consulates General in Sydney and Melbourne, except during lockdowns and declared holidays.

For Filipinos with urgent need to travel to the Philippines and have expired Philippine passports, you may apply at the Philippine Consulate General in Darwin for a Philippine Travel Document which is valid for 30-days for one-way travel to the Philippines. Also, Filipinos who have reacquired / retained their Philippine citizenship and do not have their Philippine passports are allowed to enter the Philippines as long as they present their Oath of Allegiance and Identification Certificate together with their foreign passport upon arrival in the Philippines.
Dual Citizenship
Please visit https://philembassy.org.au/consular/dual-citizenship for the complete list of requirements. Only those who have received approval letters from the Consul General and have confirmed appointments will be allowed to take the oath during the mobile mission. Please note that the Embassy's auto-reply for all emails is not a confirmation of your appointment for the oath-taking ceremony.
It is your personal responsibility to make sure that your application has been received and that you have been scheduled for the oath-taking ceremony.
Please send an email to visaanddual@philembassy.org.au and attach a copy of the approval letter from the Consul General to book an appointment for oath-taking.
For those who have not yet applied or who have not yet completed their application process, the Embassy will receive and process applications for dual citizenship oath-taking in Darwin until 28 April 2023
All dual citizenship applicants who wish to apply for Philippine passports must also secure appointment through GOAS. Reacquisition/retention of Philippine citizenship which is completed through oath-taking before a consular official must be conducted prior to passport application. The mobile mission is unable to accommodate dual citizen oath-takers who wish to avail of passport services but have not secured appointments for passport applications.
Dual citizenship oath-taking is also held year-round at the Philippine Embassy in Canberra every Thursday, subject to prior confirmation of appointment.
For further queries, please email darwin.mobilemission2023@gmail.com. All queries will only be responded to via this email address.
HOW TO SET AN APPOINTMENT USING GOAS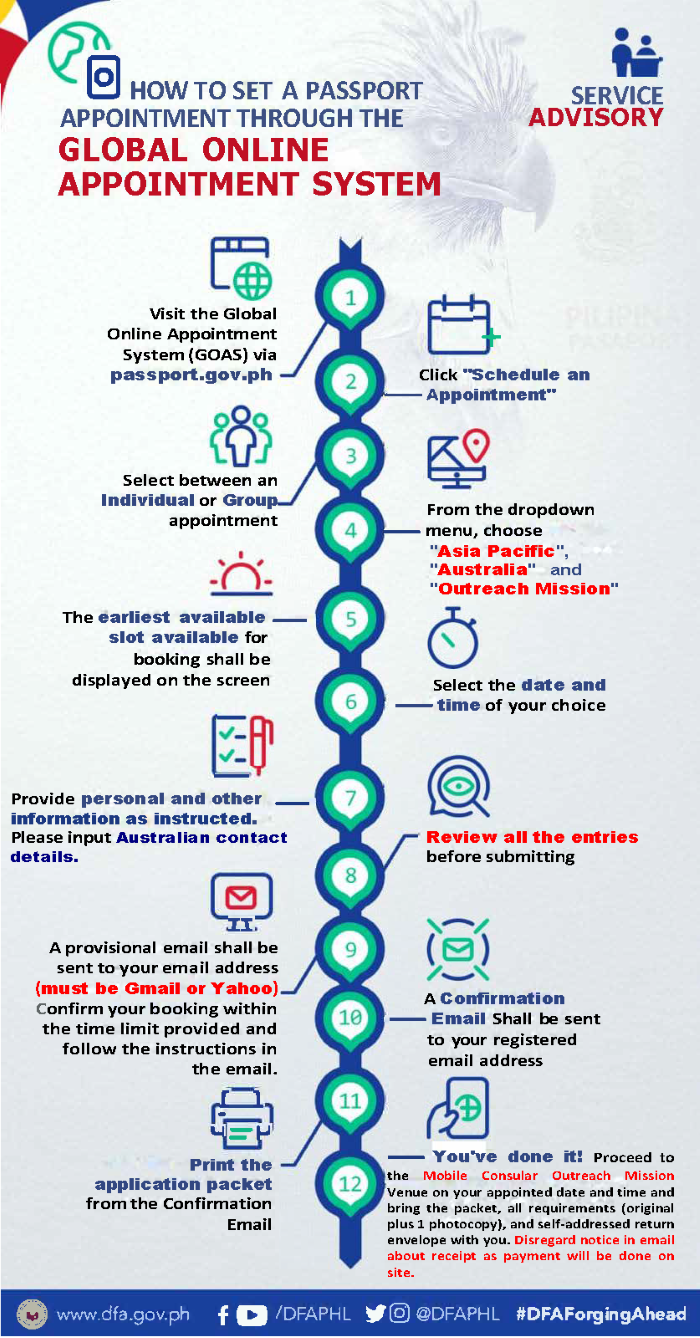 ONLINE APPOINTMENT TERMS AND CONDITIONS
The information provided in the online appointment system and the passport application form must be true and correct. The documents that will be submitted should be authentic. Under the law, making false statements in passport application form, furnishing falsified or forged documents in support thereof are punishable by law.
This appointment and scheduling system allocates slots on a first come, first served basis. Appointment slots are not for sale and non-transferrable.
Users accept the responsibility for supplying, checking, and verifying the accuracy and correctness of the information they provide on this system in connection with their application. Incorrect or inaccurate information supplied may result in suspension or rejection of your application.
Any information submitted in the system is subject to data privacy/protection and other pertinent laws and regulations.
The email account used for the appointment must be valid, active and accessible as the appointment confirmation will be sent to that email account. Users must have a valid Gmail or Yahoo email address. Contact details to be provided, such as address and phone numbers, should be the contact details used in Australia so that these may be used in contacting the applicant should there be a need to do so in relation to his/her passport application.
Please ensure that you select the correct site, "Outreach Mission", when setting up the appointment. Only those with appointments at the correct site will be accommodated.
Applicants who wish to change their appointments are reminded to cancel their old appointment schedule before securing a new appointment slot in order to avoid multiple bookings.
Filipinos who have acquired Australian citizenship through naturalization have lost their Philippine citizenship. They are not allowed to apply for a Philippine passport until they have reacquired/retained their Philippine citizenship under the Philippine Republic Act 9225 (Citizenship Retention and Re-acquisition Act of 2003).
IMPORTANT REMINDERS
Applicants are also reminded to read and understand all the documentary requirements for the consular service they want to avail of. Please click below for the list of requirements.


For Adult Applicants (18 years old and above)


For Minor Applicants (below 18 years old)


Personal appearance is required for all passport applicants. Minors must be accompanied by the mother.


Each applicant is required to bring the original version of all required documents plus one photocopy of each document. Failure to bring all required original documents and photocopies may cause delay or denial of the service. Photocopying services are not available.


Bring postal money order as payment made payable to the Philippine Embassy.


Passport fee - A$108 per applicant
Lost Passport fee - A$270 per applicant


Prepare self-addressed prepaid REGISTERED POST or EXPRESS POST PREPAID return envelope for mailing of your new passport/s.

The Embassy assumes no responsibility for any delay loss or damage in the mail or while the documents are in custody of the courier service. The applicant should note the tracking numbers of all envelopes used and submitted.

Applicants are required to wear decent clothing for passport photo capture. Plunging necklines, sleeveless clothing, see-through tops, and the like are prohibited. Pieces of jewellery, eyeglasses, artificial eyelashes, piercings and contact lenses are not allowed during photo capturing.