PRESS RELEASE
Philippine Embassy, Canberra

1 Moonah Place, Yarralumla, ACT 2600
www.philembassy.org.au    *Tel. No. 02-6273-2535*
---
The Philippines and Australia to strengthen cooperation on disaster resilience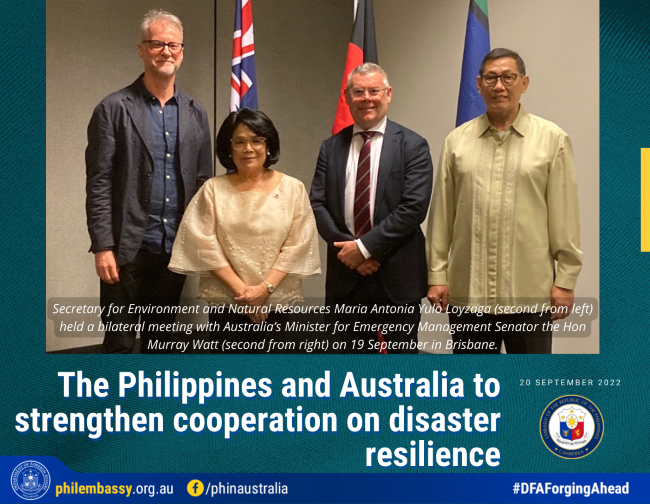 20 September 2022, BRISBANE – Philippine Secretary of the Department of Environment and Natural Resources (DENR) the Honorable Maria Antonia Yulo Loyzaga met Senator the Honorable Murray Watt, Australian Minister for Emergency Management and Head of the Australian Delegation to the Asia-Pacific Ministerial Conference on Disaster Risk Reduction (APMCDRR) on 19 September 2022. Senator Watt also serves as Minister for Agriculture, Fisheries and Forestry of Australia.

The Government of Australia and the United Nations Office for Disaster Risk Reduction (UNDRR) are co-hosting the APMCDRR 2022 from 19 to 22 September at the Brisbane Convention and Exhibition Centre. The Conference is the largest Asia-Pacific biennial gathering focused on disaster risk reduction, resilience, and the implementation of the Sendai Framework for Disaster Risk Reduction.

The two countries exchanged best practices in the delivery of disaster preparedness and response services and discussed developments in national efforts to address climate change and develop national resilience. Secretary Yulo Loyzaga talked about the importance of government engagement with the private sector to stop the cycle of merely responding to the damages caused by disasters. The Secretary underscored the importance of the commitment of the industry to embed resilience in its business framework.

Senator Murray thanked the Philippines for its leadership on disaster risk reduction and expressed Australia's desire to pursue bilateral discussions on emergency preparedness and response. The Minister shared the recent establishment of the National Emergency Management Agency in Australia combining the National Recovery and Resilience Agency and Emergency Management Australia. The Philippines expressed keen interest on this development and looked forward to further engagement with Australia.

Secretary Yulo Loyzaga and Minister Watt reaffirmed the long-standing relations of the Philippines and Australia and committed to support efforts to advance the partnership to a strategic level.

Secretary Yulo Loyzaga was joined in the meeting by Undersecretary Raymundo Ferrer of the Department of National Defense – Office for Civil Defense. Minister Watt was joined by Senator Tony Sheldon, Australia's Special Envoy for Disaster Recovery.