PRESS RELEASE
Philippine Embassy, Canberra

1 Moonah Place, Yarralumla, ACT 2600
www.philembassy.org.au    *Tel. No. 02-6273-2535*
---
Philippines turns-over financial contribution to Vanuatu's post-disaster recovery efforts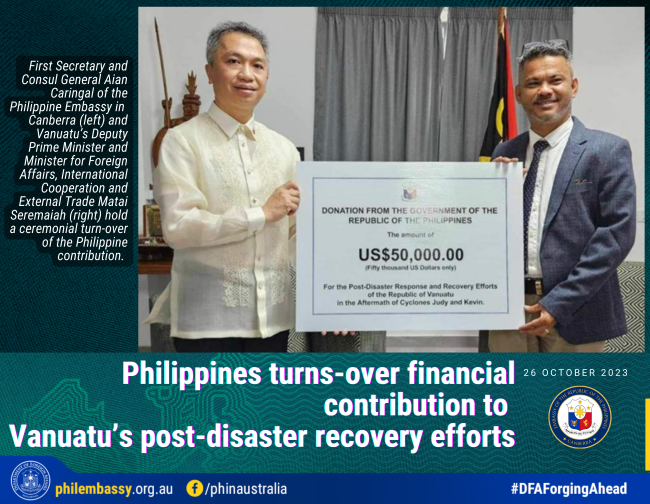 26 October 2023, CANBERRA - The Government of the Republic of the Philippines and Vanuatu held a turn-over ceremony in Port Vila, Vanuatu in the morning of 19 October 2023 for the US$ 50,000 contribution of the Philippines to Vanuatu's national response and recovery efforts in the aftermath of two tropical cyclones, Judy (category 4) and Kevin (category 5) which devastated Vanuatu within a 48-hour period in March 2023.

First Secretary and Consul General Aian Caringal of the Philippine Embassy in Canberra, representing the Philippines during the ceremony, highlighted the long standing relations between the two countries since 1986 and their strong affinity to each other, both being archipelagic and disaster-vulnerable countries located in the Pacific and strong climate advocates. The Philippines and Vanuatu established diplomatic relations in October 1986.

Honourable Deputy Prime Minister and Minister for Foreign Affairs, International Cooperation and External Trade Matai Seremaiah expressed appreciation to the Philippines on behalf of his government. Philippine Honorary Consul General in Port Vila Florentino Serrano, Philippine's Migrant Workers Office-Canberra OIC Oscar David and Attache Remedios Alcazar were also present during the ceremonial turn-over.

Earlier in the morning, the Philippine delegation led by Consul General Caringal had a courtesy call on His Excellency Prime Minister Charlot Salwai Tabimasmas and congratulated him on his very recent election as Prime Minister once again. During their stay in Vanuatu, the Philippine delegation was also able to meet Vanuatu President Nikenike Vurobaravu.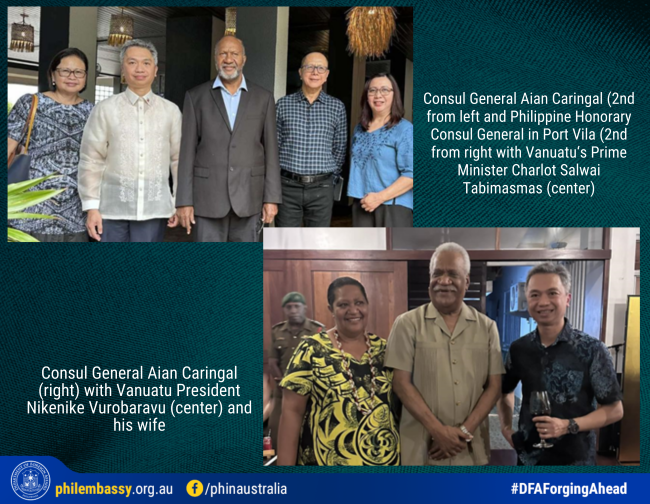 In March 2023, the Vanuatu Government declared a National State of Emergency for a 6 month period in response to this major national disaster and sought financial assistance from friends and development partners on behalf of the Government and people of Vanuatu in response to this major national disaster which caused damage to infrastructures, homes and businesses as well as major productive sectors,including subsistence farming.

In March 2015, the Philippines also provided US$50,000 in financial assistance to Vanuatu in the aftermath of cyclone Pam. The Philippines is the top 3 export partner of Vanuatu in 2021, with tuna and copra among the main exports.

Vanuatu is a member of the Pacific Island Forum (PIF) where the Philippines is also a Dialogue Partner. The Philippines supports the PIF as an indispensable mechanism for addressing the shared opportunities and challenges faced by Pacific Island nations, including climate change. -END-