PRESS RELEASE
Philippine Embassy, Canberra

1 Moonah Place, Yarralumla, ACT 2600
www.philembassy.org.au    *Tel. No. 02-6273-2535*
---
Philippine Embassy Supports the 16th FILCCA National Conference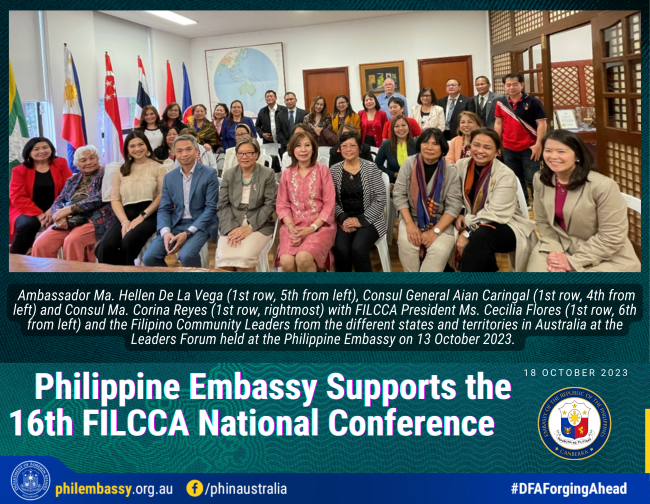 18 October 2023, CANBERRA – Philippine Ambassador to Australia Ma. Hellen De La Vega joined the Filipino Communities Council in Australia (FILCCA) in a national conference on 14 October in Canberra where key issues, challenges and opportunities facing the Filipino community in Australia were discussed.

The event, which was themed "Lead and Prosper, Share and Care: Communities Collaborating to Succeed", was attended by more than 80 Filipino community leaders from New South Wales, Victoria, South Australia, Western Australia, Queensland, and the Australian Capital Territory as well as online participants from across Australia. The conference agenda covered economic opportunities in the Philippines, leadership and political involvement, labor mobility and tourism, digital innovation and volunteerism.

In her remarks, Ambassador De La Vega said that the positive contribution of the Filipino community in the development and elevation of relations between the Philippines and Australia into Strategic Partnership was highlighted in the meeting between Prime Minister Anthony Albanese and President Ferdinand R. Marcos Jr in Manila in September. She urged the Filipino community to take advantage of the positive momentum in the bilateral relations which provides new pathways and opportunities to enhance the profile of Filipinos in Australia.

In her closing remarks, FILCCA President for 2021-2023 Cecilia Flores declared the call to action:

"As leaders of the Filipino community, FILCCA commits to advocating the telling of the modern Filipino story by:
Celebrating Filipino culture and diversity and fostering social cohesion
Continuing to act as a bridge for our community and broader Australian society – including assisting in the practicalities of life
Improving pathways for our communities to connect with each other so we can collectively support their endeavors in business, in studies and in work
Advocating for the safe, ethical and fair conditions for our Filipino workers and guiding Australian businesses by referring them to trusted and accurate information
Facilitating our people's connection to our culture, including the mentoring of our young people as the next leaders of the Filipino-Australian community
Advocating for the broader Australian community's connection to the Philippines on an economic, social and cultural level ".
Prior to the conference, Ambassador De La Vega engaged in a dialogue with the community leaders at the Embassy through a Leaders Forum organized by FILCCA on 13 October 2023. This was followed by a reception hosted by Hon. David Smith MP in honor of the Filipino community leaders at Parliament House.

The Annual General Meeting of FILCCA was held on 15 October 2023 wherein a new set of officers for 2023-2025 were elected. The new FILCCA Board is as follows:

President:
VP External:
VP Internal:
VP for Youth:
Treasurer:
PRO:
Public Officer:

Ms. Agnes Cabe
Ms. Feli Lacorte
Ms. Elsa Collado
Ms. Jenina Lui
Ms. Ofilia Leadbeater
Ms. Rachel Bernabe
Ms. Diwani "Kotch" Velasquez

Queensland
Queensland
New South Wales
New South Wales
Western Australia
Australian Capital Territory
Australian Capital Territory