Philippines – Australia convene 2nd Trade, Investment, and Industry Dialogue, to collaborate in addressing economic impact of the pandemic


(L-R). Department of Trade Industry (DTI) Philippines Undersecretary Ceferino S. Rodolfo and Department of Foreign Affairs and Trade Australia (DFAT) Deputy Secretary Christopher Langman and Assistant Secretary Simon Farbenbloom.
MANILA, PHILIPPINES – The convening of the second Philippines – Australia Trade, Investment, and Industry Dialogue (PATIID) on 20 April 2021 marked the reactivation of the economic bilateral cooperation mechanism after a six-year hiatus. The Dialogue was also held as part of a series of events to commemorate the 75th anniversary of Philippines– Australia diplomatic relations.

The meeting led by the Philippines' Department of Trade and Industry (DTI) Undersecretary Ceferino S. Rodolfo and Australia's Department of Foreign and Trade (DFAT) Deputy Secretary Christopher Langman gave an opportunity for both sides to discuss the impacts of COVID-19 on bilateral trade and investments and to update on policy reforms and projects adopted by each Government for pandemic response and business environment competitiveness.

While the Philippines lauded the first-ever shipment of frozen durian from Davao to Australia, it reiterated its interest in the grant of market access by Australia for fresh Cavendish bananas as a top priority, with durian and dragon fruit also subsequently lined up for consideration. It also requested the termination of the anti-dumping measure on Philippine canned pineapples. Australia noted that it will closely work with the Philippine government and its exporters on addressing these requests. Despite these issues, the Philippines highlighted green shoots of hope such as the expansion of Filipino food, fashion, and homestyle retailing offerings in Australian mainstream supermarkets and retail stores.

Both countries recognized Australia's significant contribution to the Philippines' total investments promotion agency (IPA) investments with more than 300 Australian companies employing about 44,000 Filipinos engaged in various activities such as mining, shipbuilding, energy supply, retail trade, accommodation and food service facilities, manufacturing, transportation, and storage. Information Technology and Business Process Management (IT-BPM) alone has at least 200 Australian companies present in the Philippines. The Philippines also welcomed the investment opportunity from Australian shipbuilding company Austal.

Meanwhile, Australia acknowledged the fast growth of investments coming from the Philippines. Filipino companies that have successfully established a foothold in the Australian market include Victoria Container International Terminal, Monde Nissin, Ramcar Holdings, Inc., San Miguel Corporation, and Century Pacific Food, Inc., among others.

To facilitate the increase of foreign investments, both countries updated each other on policy reforms for the improvement of the business environment. The Philippines provided an overview of its Corporate Recovery and Tax Incentives for Enterprises (CREATE) Act and Australia of the changes in its foreign investment review framework.

Australia highlighted its focus on building stronger and wider markets through investments and cooperation initiatives with its trading partners. In this regard, Australia proposed to collaborate with the following Philippine agencies: DTI, Department of Budget and Management (DBM), Department of Foreign Affairs (DFA), and Anti-Red Tape Authority (ARTA).

A key highlight of the meeting was the promotion of opportunities to deepen trade and investment relationship in areas such as personal protective equipment (PPE), vaccine, and pharmaceutical manufacturing, copper industry, electric vehicles, agriculture, defense, shipbuilding, renewable energy, education, and development programs in the Bangsamoro Autonomous Region in Muslim Mindanao (BARMM). Both sides welcomed the organization of the industry-focused side event on 11 May 2021 with key representatives from the business communities to complement the discussions of the PATIID.

The meeting also gave an opportunity for both sides to update each other with progress on initiatives undertaken in the multilateral, regional, and bilateral fora. Both sides expressed mutual appreciation for their active contribution in ongoing negotiations for the upgrade of the ASEAN-Australia-New Zealand Free Trade (AANZTA). Australia welcomed the interest of the Philippines in acceding to the Comprehensive and Progressive Agreement for Trans-Pacific Partnership (CPTPP) and expressed willingness to engage in technical discussions, taking off from previous bilateral consultations of the Philippines with Australia on Trans-Pacific Partnership (TPP) in 2014.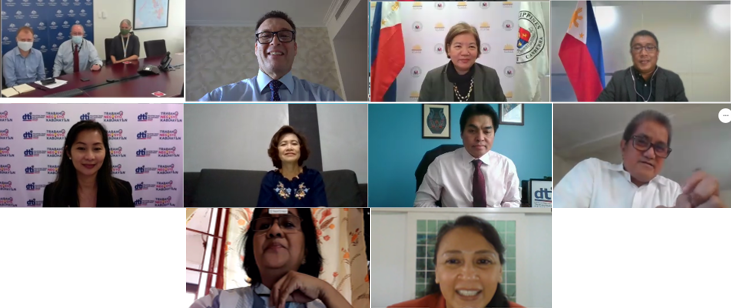 H.E. Ambassador Steven J. Robinson AO (first from L, upper row) along with other representatives from the Australian Embassy in the Philippines. H.E. Ambassador Ma. Hellen B. De la Vega (third from L, upper row), and members of the Philippine Delegation.
Both sides agreed to work intersessionally on key deliverables such as the market access requests, operationalization of the proposed collaboration initiatives of Australia with Philippine agencies, and key deliverables for the Philippines – Australia Ministerial Meeting (PAMM) proposed to be convened in June 2021 that will be jointly chaired by the Ministers of Trade and Foreign Affairs of the two countries.

In 2020, Australia was the Philippines' 20th export market, 15th import supplier, and 15th trading partner with total bilateral trade valued at USD 1.13B. For the same year, total IPA investments from Australia amounted to USD 9.68M.

For interested participants to the Philippines – Australia industry-focused side event entitled Philippine Market Insights Seminar on 11 May, 10:00 – 11:00 a.m., you may send an email to sydney@dti.gov.ph for more information.