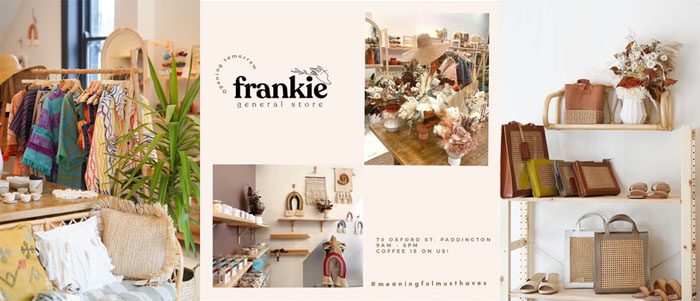 Photo credits: Frankie & Friends General Store
30 March 2021, CANBERRA - Philippine homegrown fashion and lifestyle retailer Frankie & Friends General Store, an intentional marketplace for a conscious and holistic lifestyle, expands in Australia with the opening of its first international store in Paddington, Sydney.

From its flagship store opening in 2018, which has grown to three centrally located stores in in the Philippines, the expansion of Frankie & Friends to Australian shores provides a platform for small businesses who are intentional with how they create their products, falling into three categories: sustainability, slow & ethical fashion, and small-batch handmade creations. The store carries a wide range of categories from fashion pieces, home items, children's clothing and toys, personal care, and novelty items crafted by hundreds of makers. The company's mission is to Reinvent Retail through Conscious Consumption by cultivating a purpose-driven community of artisans, makers, social entrepreneurs, and connect more people to their stories and creations.

Fashion enthusiasts with a passion for slow and ethical products, sustainable self-care and unique handmade pieces will find carefully curated products from Philippine brands such as Anthill Fabric Gallery, PioPio, Rafikimono, Andante Shoes, Arete, Ecobar PH, Evrile Bags, Inne, Karisma ni Maria, Pahulay Candles, and many more.

"Our concept originated in the Philippines, but our company aspires to create a space where we can empower and support the culture of "shopping small" by elevating local craftsmanship around the world, regardless of the neighborhood and city we set up shop in," said Katrina San Juan, the store manager and creative director for the Paddington store.

"Our team is most excited about the opening of our first international store in Sydney. We will be bringing some of our best sellers from the Philippines, and collaborating with locals in Sydney as well to showcase their craftsmanship and love for small-batch creations and sustainability. Another thing we are looking forward to is fully launching our online marketplace, where all brands who do not have enough inventory to supply our physical stores can sign up and list their products in our website by visiting www.frankiemarketplace.com. Within minutes and from their homes, every small business owner that falls under our curation guidelines, can have their products up in our website for our customers to know about," Ms. San Juan added.

Meanwhile, the Department of Trade & Industry, through its overseas trade office in Sydney said the opening of Frankie & Friends is a testament to the capability of Philippine companies to globalize their brands while also providing a sustainable development platform for micro, small and medium-sized enterprises (MSMEs) to serve a bigger audience: the affluent and lucrative Australian lifestyle and gifting market valued at AUD20 billion. END.