PHOTO RELEASE
Philippine Embassy, Canberra

1 Moonah Place, Yarralumla, ACT 2600
www.philembassy.org.au    *Tel. No. 02-6273-2535*
---
Philippine Embassy in Canberra convenes 2nd Resident Election Registration Board (RERB) Meeting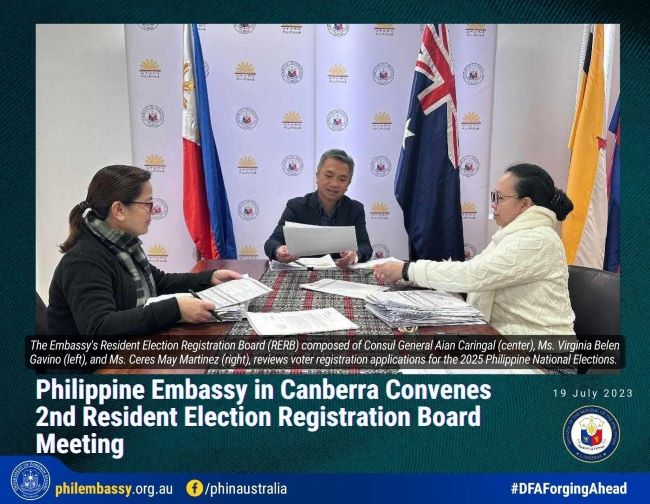 19 July 2023, CANBERRA - The Resident Election Registration Board of the Philippine Embassy in Canberra convened on 17 July 2023 to consider applications for the registration, certification, reactivation, or correction of entries, or change of name, change of address, transfer, recapture, and other types of applications of overseas voters filed with the Embassy from 01 April to 30 June 2023.

Registered voters may vote for Senators and Party List Representatives during the 2025 Philippine National Elections. Qualified overseas Filipinos are encouraged to visit the Embassy to register for the 2025 elections until 30 September 2024.

For more information on the overseas voter registration process and requirements, please refer to the Embassy's advisory:
https://philembassy.org.au/latest/advisory/notice-of-resumption-of-continuing-overseas-voter-registration-and-election

The iRehistro application form for overseas voters may now be accessed through the following link:
https://irehistro.comelec.gov.ph/irehistro/ovf1

The iRehistro is an online system which provides Filipino registrants another way of accomplishing the Voters Registration Application Form before coming to the Embassy or any Registration Venue. The applicant must present the printed accomplished form to the VRM Operator and have their biometrics taken to complete the registration process.

Register to exercise your right to vote!