PRESS RELEASE
Philippine Embassy, Canberra

1 Moonah Place, Yarralumla, ACT 2600
www.philembassy.org.au    *Tel. No. 02-6273-2535*
---
PH Department of Science and Technology and Murdock University Sign MOU to Advance Science and Technology Cooperation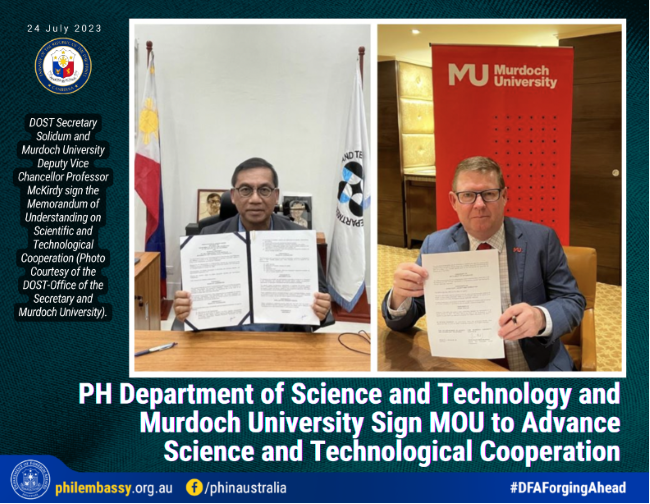 24 July 2023 - The Philippine Department of Science and Technology (DOST) and Murdoch University have taken a significant step towards enhancing scientific, technological, and educational cooperation with the signing of a Memorandum of Understanding (MOU) on 30 June 2023. The MOU was signed by DOST Secretary Renato U. Solidum, Jr. and Murdoch University's Deputy Vice Chancellor for Global Engagement, Professor Simon McKirdy.

This collaborative effort will focus on several key areas of cooperation, including health security, biosecurity for humans, animals, and plants, biosafety, and engineering. The agreement encompasses joint research and development initiatives, capacity-building programs through the implementation of graduate scholarships and fellowships, people-to-people exchanges, and the organization of joint training sessions, conferences, among others.

The DOST expressed optimism that the collaboration will facilitate the exchange of knowledge, and promote innovative solutions. In particular, this partnership is expected to contribute significantly to the establishment of the Virology and Vaccine Institute of the Philippines (VIP).

The Philippines and Australia have strong institutional linkages on education, research and development and the two countries continue to work together in supporting each other's innovation goals.

More information can be found on the DOST's website.