PRESS RELEASE
Philippine Embassy, Canberra

1 Moonah Place, Yarralumla, ACT 2600
www.philembassy.org.au    *Tel. No. 02-6273-2535*
---
PH Ambassador Shares the Legal Framework on the Protection of Migrant Workers with Pacific and ASEAN Missions in Canberra

02 November 2021 – H.E. Ma. Hellen B. De La Vega, Philippine Ambassador to Australia, shared the Philippine legal framework on the protection of overseas Filipino workers, the country's bilateral approaches in managing labour migration and the importance of the International Convention on the Protection of the Rights of All Migrant Workers and Members of Their Families in a seminar with the Heads of Mission of Pacific Island Countries and ASEAN in Canberra.

The Embassy of the Philippines organized the seminar, "Managing Labour Migration: The Philippine Experience" on 29 October 2021 to highlight the importance of protecting the rights and promoting the welfare of migrant workers.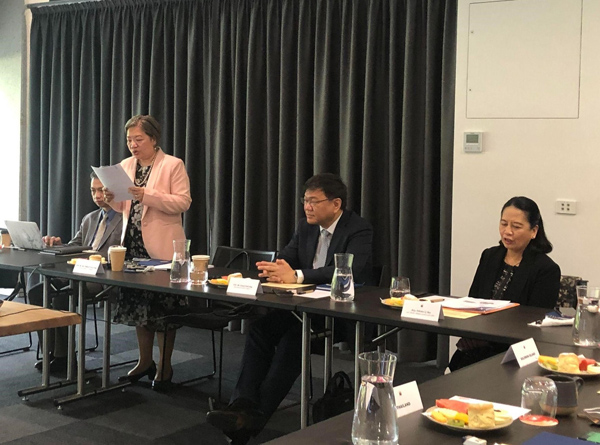 In her welcome remarks, Ambassador De La Vega stated the Philippines' long standing diplomatic relations with Pacific Island Countries and stressed the importance of the Philippine engagement with our partners in the Pacific including through the Pacific Islands Forum, and the Pacific Islands Development Forum. The Ambassador also stated that the cooperation with the Pacific Island Countries responds to the actual needs and shared challenges as Pacific nations.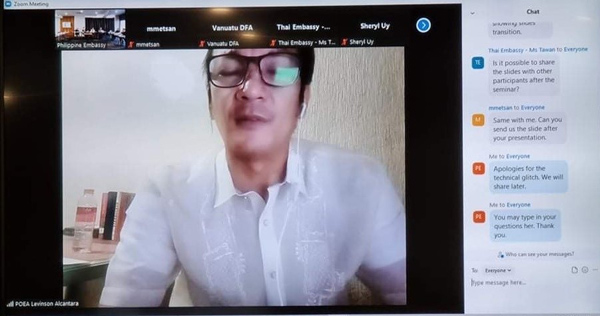 The resource persons included Labor Attaché to Australia Felicitas Bay, Director Levinson Alcantara of the Philippine Overseas Employment Administration (POEA) who joined virtually from the Philippines, and First Secretary and Consul General Aian Caringal.

Like the Philippines, countries in the Pacific also deploy workers to other countries and they noted the need to strengthen national mechanisms to support and protect their migrant workers. A lively exchange among the Heads of Mission on the best practices on labor migration took place after the presentations of the Philippine resource persons.

The participants from the Pacific Island countries were the High Commissioners / Ambassadors of Fiji, Nauru, Papua New Guinea, Samoa, Solomon Island, Tonga and Vanuatu, as well as the High Commissioners / Ambassadors of Malaysia, Singapore and Thailand.

Representatives from the Embassy of Laos in Canberra, the Royal Thai Embassy, the Vanuatu government, and the Philippine Embassy in Port Moresby also joined virtually. The seminar was co-sponsored by Singapore High Commissioner His Excellency Kwok Fook Seng who delivered the closing remarks. . END