CANBERRA, Australia – On 26 November 2018, Australian Foreign Minister Marise Payne announced 125 scholars from across Australia who will be studying and gaining work experience in 24 locations through the region, including the Philippines in 2018. The New Colombo Plan is an initiative of the Australian Government to help Australian undergraduates develop a better understanding of the region.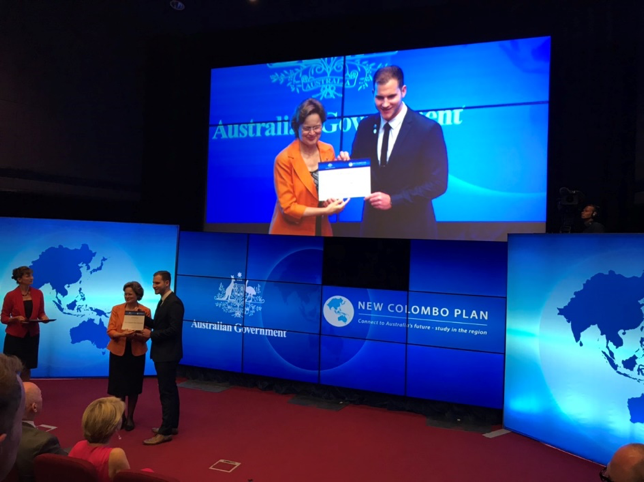 DFAT Secretary Frances Adamson awards Mr. Joel Kennaway the New Colombo Plan Scholarship during a ceremony on 26 November 2018. Mr. Kennaway, a student of Charles Darwin University, will be studying at the University of the Philippines under the New Colombo Plan.
The successful applicants to the New Colombo Plan for 2019 was announced during a ceremony on 26 November 2018 in Canberra, Australia where Mr. Jim Tito B. San Agustin, Chargé d' Affaires, a.i.. represented the Philippines. Among the scholars is Mr. Joel Kennaway, an Australian student from Charles Darwin University who will be studying Civil Engineering at the University of the Philippines for nine months starting March 2019.
The Philippine Embassy in Canberra provided Mr. Kennaway with a briefing on studying and living in the Philippines. The Embassy once again congratulates Mr. Kennaway and the Australian Government for this important initiative which builds mutual understanding between our countries and contributes to vibrant people-to-people exchanges among our youth.