The Philippine Embassy in Canberra conducting a mobile consular mission to Perth on 05-09 November 2018
PERTH, Australia - The Philippine Embassy in Canberra completed a five-day mobile consular mission in Perth, Western Australia on 05-09 November 2018. This was the second mission to Perth for calendar year 2018.
The Embassy processed 641 passport applications and administered the oath of allegiance to forty-six (46) Filipinos who reacquired their Filipino citizenship under Republic Act No. 9225 or the Citizenship and Re-acquisition Act of 2003.
The Embassy conducts two mobile missions a year to Perth, which is over 3,000 km away from Canberra, to serve the growing Filipino community in Western Australia.
The mission was led by Third Secretary and Vice Consul Nicole de Castro with consular assistants Mr. Ruel Penaflorida and Mr. Albert Francia. Labor Attaché Ms. Cynthia Lamban and Mr. Antonio Saquing Jr. of the Philippine Overseas Labor Office (POLO) in Canberra also conducted one-on-one consultations with Filipino overseas workers. Col. Dennis Gammad, Philippine Defense Attaché to Australia, provided logistical support to the mission.
The Mobile Consular Mission was supported by the Philippine Consulate in Perth led by Philippine Honorary Consul Michael Gillis and volunteers from Filipino community organizations.
The next mobile missions to Perth will be in July and November 2019. Appointments are necessary. Please visit www.philembassy.org.au on 02 May 2019 for an announcement on how to secure an appointment.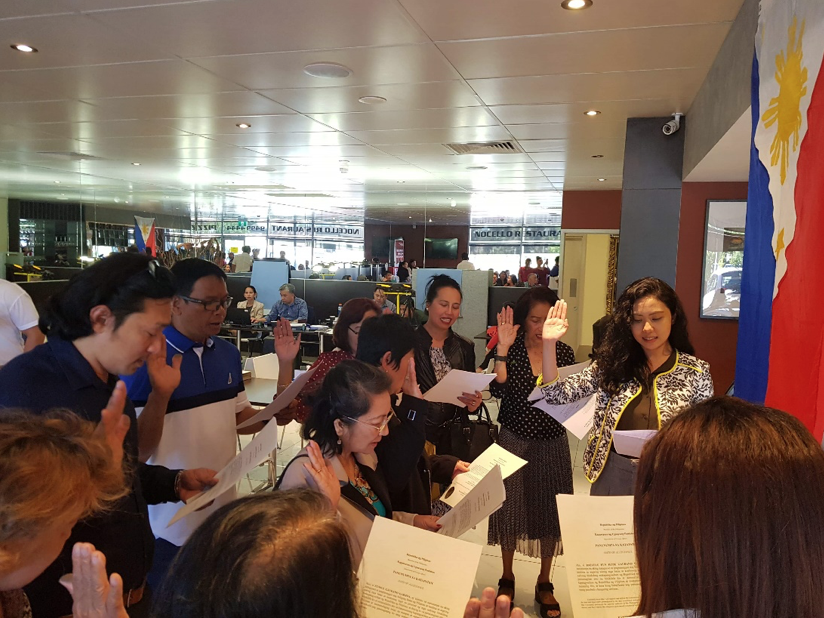 Third Secretary and Vice Consul Nicole de Castro administers the oath of allegiance for 46 dual citizens on 06 and 07 November 2018