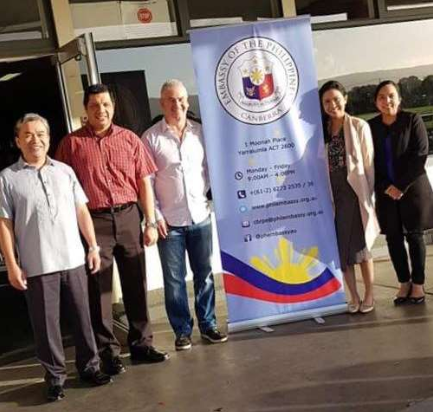 (L-R) Mr. Ruel Penaflorida, Mr. Roderick Sierra, Philippine Honorary Consul to South Australia Darryl Johnson, Third Secretary and Vice Consul Nicole de Castro and Mrs. Kathleen Tudio at the Mobile Consular Mission in Adelaide
The Philippine Embassy, with the assistance of the Philippine Consulate in Adelaide, conducted a four-day Mobile Consular Mission in Adelaide, South Australia on 8 to 11 May 2018.
Four hundred eleven (411) Filipinoshad their passport applications processed and 200 people registered for overseas voting for the 2019 Senatorial elections. More than 20 people also took the opportunity to take their oath as dual citizens.
The Philippine Embassy expresses appreciation to all our kababayansfor availing of these services and for their cooperation and understanding to ensure the smooth operations of the mission.
The next mobile consular mission will be in 2019. Please visit www.philembassy.org.au for an announcement and follow us on Facebook @PHinAustralia.