CANBERRA, Australia – On her second day in Canberra, Philippine Ambassador to Australia Ma. Hellen Barber De La Vega received the officers of the Filipino Community Council of the ACT (FCCACT), the peak body of Filipino community organizations in Australia's capital city, and discussed her priorities and vision in working with the Filipino community.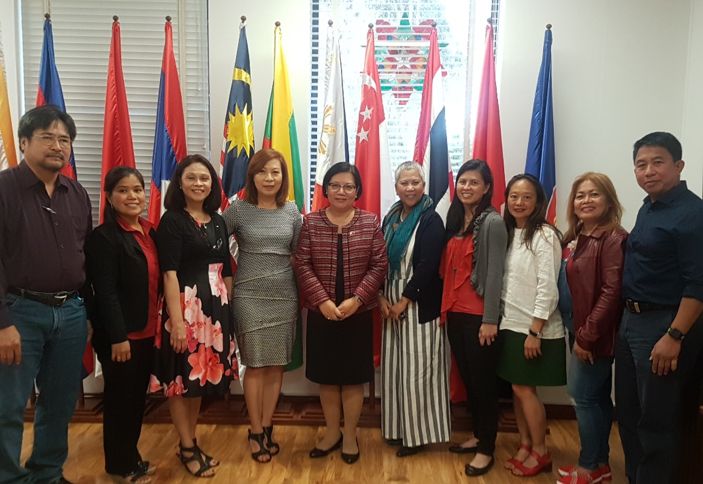 (L-R) Mr. Norman Kalagayan, Ms. Gloria Ross, Ms. Feding Donaghue, Ms. Cecilia Flores, H.E. Ma. Hellen Barber De La Vega, Ms. Sally Barber, Ms. Kotch Velasquez, Ms. Noonee Doronila, Ms. Elizabeth Garrett, and Mr. Arnel Basas at the Philippine Embassy in Canberra
The Ambassador noted the long history of cooperation between the Philippines and Australia dating back to the second world war. The Ambassador said, "The people to people connections of the two countries are truly noteworthy. From fighting on the same side to advance democracy, to education exchanges and professional linkages, Filipinos and Australians share personal values as well as warm and deep friendship."
The FCCACT led by its President Ms. Noonee Doronila welcomed the Ambassador who arrived in Canberra on 28 November 2018 and said that the Council looks forward to working closely with Ambassador De La Vega in strengthening community-building among Filipinos in Australia and in supporting the Philippine Embassy's efforts to serve the interests of the Filipino people.
Ambassador De La Vega expressed her appreciation for the Council's warm welcome and their contributions in promoting Philippine heritage and the welfare of the overseas Filipino community. She encouraged the FCCACT to raise awareness on the pioneering efforts and achievements of Filipinos which have made an imprint in Australia's multicultural society. Ambassador De La Vega said the Philippine Embassy will continue its strong engagement with the Filipino community and looks forward to the celebration of Pasko sa Canberra (Christmas in Canberra) on 02 December 2018 which is jointly organized by the FCCACT and the Philippine Embassy.