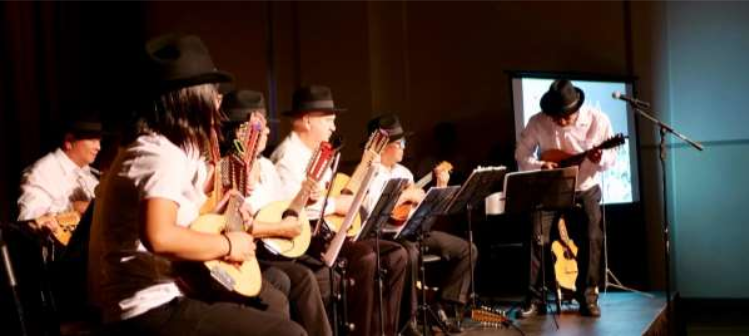 The Darwin Rondalla led by Musical Director Felino Molina and joined by members of Rondanihan perform at the Ainslie Arts Centre in Canberra.
On the evening of 28 March 2018, the Ainslie Arts Centre was filled with the sounds of the Darwin Rondalla and Rondanihan bringing nostalgia to those who grew up listening to traditional Filipino string ensemble music and also new musical experiences to those introduced to the string ensemble for the first time.
More than one hundred people attended "A Rondalla Concert" organized by the Philippine Embassy to honour the great tradition of the Filipino rondalla music which continues to thrive in Australia
The first Filipinos who arrived in Australia called the Manilamen brought with them their family values, Catholic upbringing, Filipino-style food and a great love for music.The early Filipino string bands or rondallas paved the way for the proliferation of string bands in the 1930s in Darwin.
This musical legacy is intertwined with the story of the Cubillo family, one of the oldest and most well-known families in the Northern Territory. From the island of Bohol in the Philippines, Antonio Pedro Cubillo arrived in Australia on January 19,1895 in Palmerstone and worked on a lugger as a seaman and then as a pearl diver. He married Lily McKeddie, daughter of George McKeddie of Scottish descent and Annie (Duwun), an aboriginal Larrakia women. They had 10 children and for generations, his family would play an instrumental role in the vibrant music and dance heritage in Darwin.
Antonio Cubillo formed the first Filipino Rondalla in Darwin after World War I and his four sons took over the band, the Cubillo String Band, in 1926. They were recognized for their music and played at dances at the Immigrant Hall, Star Theatre and at official functions at the Government House before the outbreak of the second World War.
In 1993, Cubillo family members and Darwin musicians re-established the Darwin Rondalla to perform the music for the play "Keep Him my Heart: A Larrakia-Filipino Love Story", a re-telling of the history of the Cubillo family and their impact on Australian society. Their story forms part of the historic and long-standing people-to-people linkages between the Philippines and Australia.
"A Rondalla Concert" brought together the Darwin Rondalla and Canberra's own Rondanihan. The Darwin Rondalla were in Canberra to participate in the National Folk Festival with the support of the National Library of Australia. Joining them was Rondanihan, a plucked string rondalla, established in 2002 through the leadership of Roy and Dolores Ramirez. The two groups performed familiar Filipino songs such as Paru-Parong Bukid and Pandagguhan, and popular tunes such as La Paloma, Pearly Shells, and a Beatles medley.
The concert was a reminder of how powerful music can be in telling our stories and bringing us closer together as one global community.