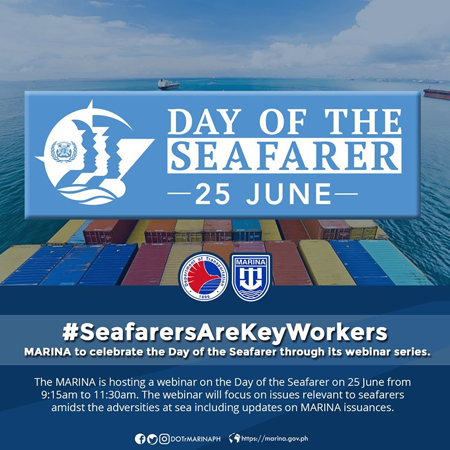 25 June 2020 – The Philippine Embassy in Canberra invites you to celebrate the Day of the Seafarer on 25 June 2020 with the theme, "Seafarers are Key Workers" highlighting the vital role of seafarers as frontline workers. This annual international commemorative event is coordinated by the International Maritime Organization (IMO).
Visit the Official Website of the Maritime Industry Authority of the Department of Transportation of the Philippines which is hosting a webinar on the critical role of seafarers in this time of a global health crisis (https://marina.gov.ph/day-of-the-seafarer/)
Before the COVID-19 pandemic, there were approximately 440,000 deployed Filipino seafarers representing twenty-five percent of the world's seafaring workforce. The remittances of sea-based overseas Filipino workers make up 21% of total remittances of overseas Filipino workers. With about 90 percent of global trade carried through international shipping, Filipino seafarers are key frontline workers who are critical in ensuring the continued transport of essential commodities all over the world. END.