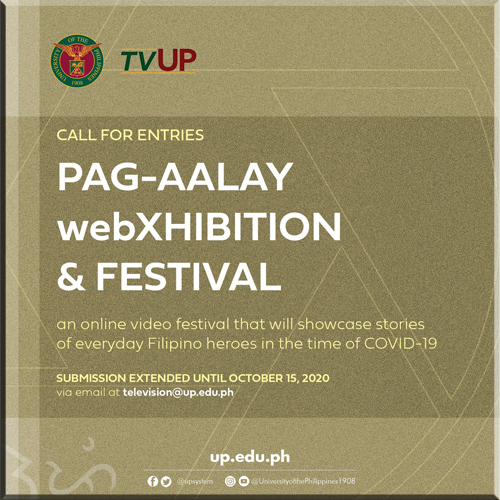 21 July 2020 - The Philippine Embassy in Canberra invites all interested parties to join PAG-AALAY webXHIBITION & FESTIVAL, an online video festival which will showcase stories of everyday Filipino Heroes, organized by the University of the Philippines. The theme for this year's festival is "Pag-aalay sa Panahon ng Pandemya".
All entries from amateur or professional Filipino filmmakers, multimedia creators, and artists are welcome. Participants may submit their entries to any of the six categories: narrative, documentary, animation, experimental, virtual/augmented reality, and music video to television@up.edu.ph. Submissions are open until 15 October 2020.
Winners will be announced during the virtual Video Awards Night on 30 November 2020.
For more information, please visit https://www.up.edu.ph/call-for-entries-pag-aalay-webxhibition-festival/ END