PRESS RELEASE
Philippine Embassy, Canberra

1 Moonah Place, Yarralumla, ACT 2600
www.philembassy.org.au    *Tel. No. 02-6273-2535*
---
161st Birth Anniversary of Dr. Jose P. Rizal, commemorated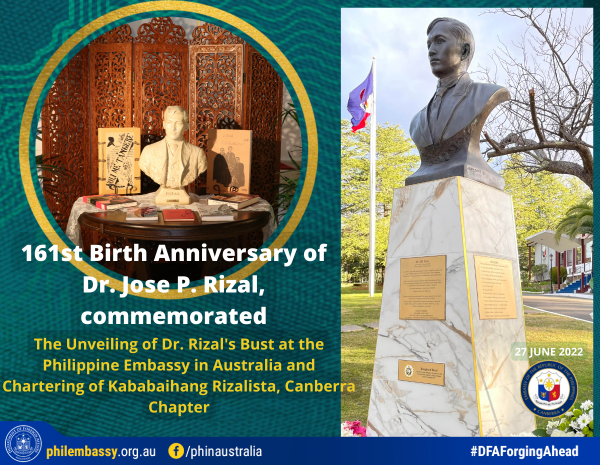 27 June 2022 – The Philippine Embassy in Canberra Australia celebrated the 161st Birth Anniversary of Dr. Jose Rizal with the unveiling of Rizal's bust at the Embassy grounds and the chartering of Kababaihang Rizalista (KRI), Canberra Chapter on 24 June 2022.

The Rizal bust was made by Filipino sculptor, Mr. Juan Sajid Imao, commissioned by the Knights of Rizal Australia New Zealand and Oceania Region (KOR-ANZO) led by Sir Danilo Peralta, Sir Cesar Bartolome, with the assistance of Mr. Rene Cabrera of San Miguel Yamamura Australasia, Mr. Jun Capili of My Redeemer Lives, and the members of KOR-ANZO Region.

H.E. Ma. Hellen B. De La Vega and Deputy Supreme Commander Sir Raymundo Del Rosario of the Knights of Rizal National Headquarters, led the unveiling of the bust of Dr. Rizal. The program started with the flag raising ceremony followed by the unveiling of the bust. Knights of Rizal and Kababaihang Rizalista from Sydney and Canberra Chapters, together with the Officers of KOR Supreme Council offered wreath and flowers.

In her remarks, Ambassador De La Vega expressed hope that the bust will ignite the interest of the Embassy's guests, especially the Australians, in the life and ideals of Dr. Jose Rizal. She also gave assurance that the Philippine Government will continue to highlight the life and works of Rizal in its public diplomacy efforts.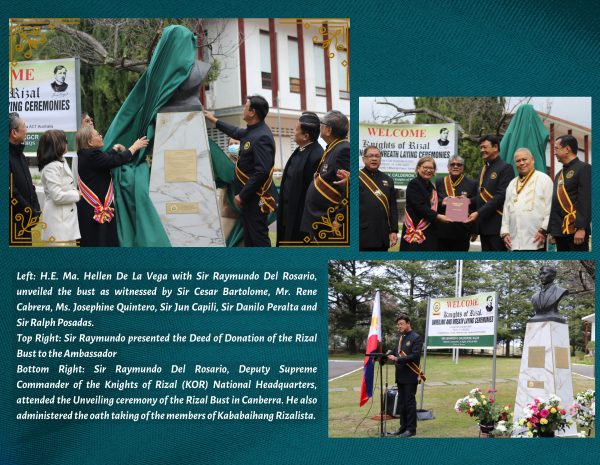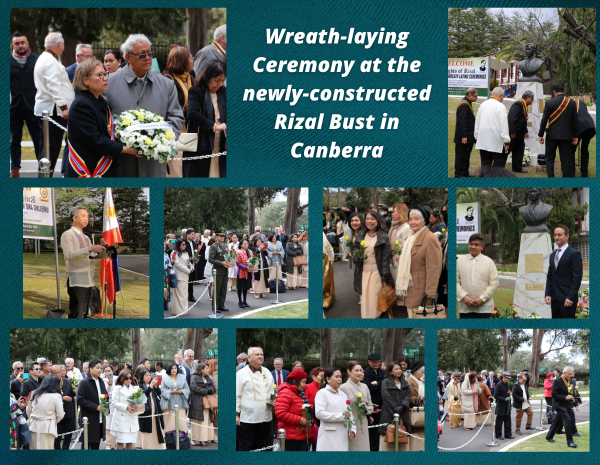 The unveiling ceremony was followed by the Chartering of Kababaihang Rizalista (KRI), Canberra Chapter and the oath taking of its officers and members with two new members of KRI Sydney Chapter. Sir Raymundo Del Rosario administered the oath taking. Lady Michelle Baltazar, President of KRI Sydney Chapter, conferred the medals and certificate of memberships to the members of newly established Canberra Chapter. Ms. Josephine Quintero, great granddaughter of Dr. Rizal to sibling Soledad, is also present to witness the occasion. KRI Canberra Chapter is headed by Ms. Marlene Tucker, elected President, with H.E. Ma Hellen De La Vega as adviser. A simple reception was held at the Ambassador's residence catered by Lolo and Lola. --- END ---