Ambassador Willy C. Gaa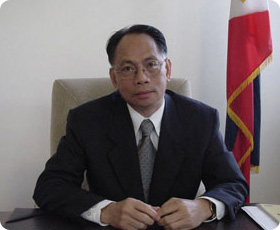 H. E. Willy C. Gaa was the Ambassador Extraordinary and Plenipotentiary (AEP) of the Republic of the Philippines to the Commonwealth of Australia in 2001-2003. He is concurrently accredited to the Governments of Nauru, Tuvalu and Vanuatu.
Ambassador Gaa was formerly Philippine Ambassador to Tripoli, Libya and non-resident Ambassador to Tunisia, Malta and Niger (1992-1997). He was Consul General in New York (1997-1999); Deputy Consul General in Los Angeles (1987-1990); Consul in New York (1981-1985) and Vice Consul, subsequently Consul, in San Francisco (1975-1980).
His career as a diplomat began when he was appointed as Foreign Service Officer in December 1974 after passing the FSO examination and taking the oath of office in 1975.
He served in various capacities in the Department of Foreign Affairs, Manila: Principal Assistant, Office of Administration (1975); Secretary, Board of Foreign Service Administration and Board of Foreign Service Examiners (July-August 1985); Acting Chief Coordinator, Office of the Acting Minister of Foreign Affairs (September 1985-February 1986); Director Office of Middle East and African Affairs (July-August 1986); Executive Director, Office of Consular Services (August 1986-February 1987); Assistant Secretary, Office of Asian and Pacific Affairs (May 1999 to 11 January 2002).
Ambassador Gaa represented the Philippines in various United Nations conferences, as well as multilateral and regional meetings, seminars and training. He served as Adviser of the Philippine Delegation to the 36th and 53rd United Nations General Assemblies (1981 and 1998, respectively). He attended several ASEAN Senior Officials meetings and various bilateral dialogue meetings as member of the Philippine Delegation.
He was Head of the Philippine Delegation to the Working Group on SEANFWZ and ZOPFAN and Senior Officials Working Group on the Regional Code of Conduct on the South China Sea in Singapore, Bangkok, Thailand, China, Vietnam and Brunei Darussalam (1999-2000); the Intersessional Group Meetings on Confidence Building Measures of the ASEAN Regional Forum (ARF) in Tokyo, Kuala Lumpur, New Delhi and Singapore (1999-2001); and the Philippine Working Group Meetings on Confidence Building Measures Between China and the Philippines in Beijing (1999) and Manila (2001).
Ambassador Gaa obtained his Bachelor of Arts (A.B. Political Science) degree from Manuel L. Quezon University in 1966. He graduated from the University of the Philippines in 1970 with a Bachelor of Laws degree and from New York University in 1985 with a degree in Master of Laws (International Legal Studies).
He passed the government career service exam in 1968, the Philippine Bar Examination in 1970 and the State Bar of California, U.S.A. in 1990. His previous legal work experience was as tax and compliance attorney at Petrophil Corporation (1974-1975) and as trial attorney at the Office of the Solicitor General (1971-1974).
For his long and dedicated service to government and country, Ambassador Gaa was presented with the Gawad Sentenaryo (Centennial Award) in 1999 by the National Centennial Commission and the Distinguished Service Award in 2000 by the Department of Foreign Affairs.
Ambassador Gaa is married to Erlinda Concepcion, with whom he has two sons, Wendell and Warren.