Ambassador Rora Navarro-Tolentino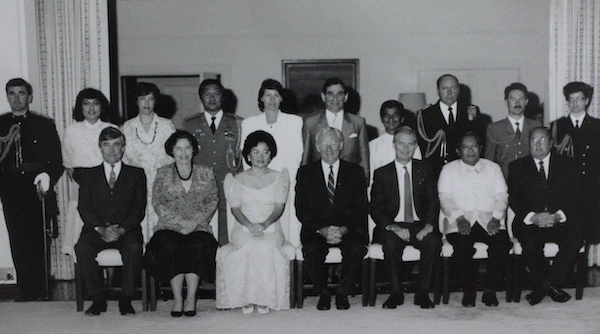 Ambassador Rora Navarro-Tolentino served as the Philippine Ambassador to Australia and non-resident Ambassador to Nauru from 1989 to 1994.
Ambassador Tolentino is a retired career diplomat who served in the Department of Foreign Affairs for over 43 years.
In addition to serving as Philippine Ambassador to Australia, she served as Ambassador to France twice (2008-2011 and 1994-1997), Monaco (2009-2011), Switzerland and Liechtenstein (2000-2006); and Portugal (1994-1997). She also served as concurrent Ambassador and Permanent Representative to the United Nations Educational, Scientific, and Cultural Organization (UNESCO) during her two assignments as Ambassador to France.
Her previous overseas assignments included San Francisco (1976-1978) and Bangkok (1978-1986). In the Department of Foreign Affairs, she held senior roles as Assistant Secretary for Public Affairs (1986-1988), Director General for Asian and Pacific Affairs (1988-1989), Chief Coordinator, and concurrently, Assistant Secretary for Policy and Planning (1997), Undersecretary of Foreign Affairs (1997-2000), and Chief of Staff and Senior Special Assistant of the Secretary of Foreign Affairs (2006-2008).
It was during her tenure as Philippine Ambassador to Australia when the Philippine-Australia Senior Officials Talks were resumed after more than a decade on 26 November 1991. The resumption of the consultations was an affirmation of the growing importance of Philippine-Australia bilateral relations and the common desire to deepen dialogue on key regional issues, bilateral matters including trade and investment, development cooperation and cultural relations.
Philippines-Australia defense cooperation was further supported by the exchange of visits of General Peter C. Gration, Chief of the Australian Defence Force (ADF) to the Philippines (1992), and General Lisandro C. Abadia, Chief of Staff of the Armed Forces of the Philippines (AFP) to Australia (1992). These were the first visits at their ranks.
With the facilitation of the DFAT, Ambassador Tolentino officially visited all states and territories of Australia, thereby establishing important communication channels of the Embassy with their respective offices.
During her tenure, former Philippine President Corazon C. Aquino visited Australia on 3-10 July 1993 at the invitation of the Federal Government under the Australian Special Visitor's Programme. She would also facilitate the visits of then Senator Gloria Macapagal-Arroyo as Chairman of the Senate Committee on Trade & Investments (1992), NEDA Director General Cielito Habito for the signing of the Philippines Australia Agreement on Development Assistance (1991), Secretary of Health Juan Flavier (1993), Senator Raul Roco who led the Philippine Delegation of Senators and Members of Congress to the Inter-Parliamentary Union (IPU) Conference in Canberra (1993), and Senator Edgardo J. Angara (1993) among others.
Ambassador Tolentino worked to enhance Philippine and Australia trade relations, investments, and development cooperation. Among the activities under the Embassy's economic diplomacy work program were the Philippine Industrial Goods and Services Selling Missions and the Handicrafts Exhibits in Melbourne and Sydney, as well as visits by Australian businessmen to the Philippines under the auspices of the revitalized Australia Philippines Business Council headed by Sir Rupert Clarke and Mr. Ricardo Guevarra. She also forged closer relations of the Embassy with the Filipino-Australian communities all over Australia and effectively encouraged their active cooperation to support joint projects in Australia and the Philippines.
A lawyer, Ambassador Tolentino was educated at the University of the Philippines and graduated with double degrees of Bachelor of Science in Foreign Service (1967) and Bachelor of Laws (1973). She passed the Foreign Service Officers Exam in 1971 and became a member of the Philippine Bar in 1974.
In recognition of her achievements, the Philippine Government has conferred on Ambassador Tolentino the Distinguished Service Award in June 2000 by the Department of Foreign Affairs, and the Gawad Mabini (Rank of Dakilang Kamanong) in July 2001 by H.E. President Gloria Macapagal-Arroyo.
French President Jacques Chirac granted Ambassador Tolentino the rank of Grand Officier de l'Ordre National Du Merite in Paris in April 1997.
She was also honored with several non-governmental awards and among these, she regards with utmost pride her selection as a Centennial Awardee of the two educational institutions from where she graduated - Outstanding U.P. Alumna for Public Service and Governance (2008), and Outstanding 100 Centennial Alumnae of the College of the Holy Spirit, Manila (2013).
Ambassador Tolentino was born in Cebu but also traces her family roots to Surigao del Norte. She is happily married to an alumnus of the University of the Philippines, Abelardo M. Tolentino, Jr. who is also a lawyer. They are blessed with two daughters and a son who are all married, and they now have six grandchildren.