Ambassador Romualdo A. Ong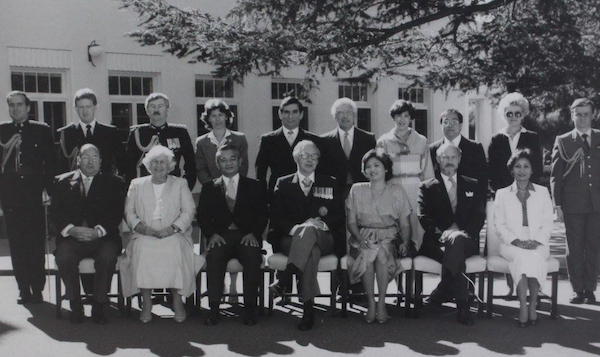 Ambassador Romualdo A. Ong served as the Philippine Ambassador to Australia and non-resident Ambassador to Nauru from 16 September 1986 to 30 June 1989.
He would later also serve as Ambassador to Russia (1993-1994), the People's Republic of China (1994-2000), and Malaysia (2003-2004). His other overseas assignments included Bonn (1972-1975), Geneva (1975-1979), and Beijing (1979-1982).
In the Department of Foreign Affairs, he held various roles including as Special Assistant to the Deputy Minister for Foreign Affairs (1983), Assistant Minister at the Office of Association of Southeast Asian Nations Affairs (1984-1985), and Senior Economic Consultant at the Technology Secretariat for International Economic Relations and Board of Overseas Economic Promotion (1985). Prior to his retirement from government service, he was the Director of the Foreign Service Institute.
Following the EDSA Revolution and the assumption of then President Cory Aquino in 1986, the Australian Government worked towards reinvigorating its bilateral relations with the Philippines. It was during his tenure as Philippine Ambassador to Australia when the two countries established the High-Level Consultations on Development Cooperation with Australia in 1987 contributing to the Philippine economic recovery program. The year after, the Philippines and Australia would sign the Treaty of Extradition in Manila and Treaty on Mutual Assistance in Criminal Matters in Canberra.
Ambassador Ong served in the Department of Foreign Affairs for 36 years. He retired from government service on 25 October 2004.
Ambassador Ong was educated at the University of the Philippines and graduated with the degrees of Bachelor of Science in Foreign Service (1961) and Bachelor of Laws (1964). He passed the Foreign Service Officers Examinations in 1967.
Ambassador Ong was born in Manila to parents Juan Salido Ong and Adelaida Añover. He is married to retired Ambassador Farita Aguilucho-Ong.