Ambassador Minda Calaguian-Cruz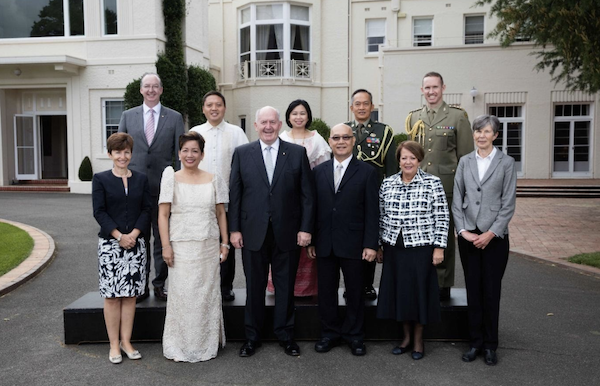 Ambassador Minda Calaguian-Cruz served as Philippine Ambassador to Australia and non-resident Ambassador to Vanuatu, Nauru and Tuvalu from April 2016 to August 2018. She was a diplomat of the Republic of the Philippines for 35 years before retiring from the service.
She joined the Philippine Foreign Service in 1983 and began her career as Assistant Director of the China Division. She later served as Director in the United Nations and Other International Organizations (1993-1997) for social development and humanitarian issues and Chief Coordinator for the Secretary of Foreign Affairs (2004-2008). She oversaw the Philippines' bilateral relations with 41 countries in the Asia Pacific from April 2014 to March 2016, as Assistant Secretary.
Her overseas assignments included London (1986-1990), Beijing (1990-1993), and Hong Kong SAR (1997-2000). She was Minister and Consul General in Singapore (2000-2004) and Ambassador to Singapore from 2008 to 2014.
She completed her Foreign Service Training Course in 1984 in Australia under the Colombo Plan with officers of the Australian Department of Foreign Affairs and Trade (DFAT).
In 2016, she led the commemorative activities for the 70th Anniversary of Philippines Australia Diplomatic Relations which focused on nurturing the people-to-people linkages between the two countries across sectors of society and government and initiated the 70th Anniversary Awards. During this milestone year, the active personnel of the Armed Forces of the Philippines participated in Canberra's ANZAC parade for the first time as a symbol of the strong and steadfast defense security cooperation between the Philippines and Australia.
The Ambassador accompanied then Australian Prime Minister Malcolm Turnbull and Foreign Minister Julie Bishop in their visit to Manila to participate in ASEAN meetings in 2017, during the Philippine chairmanship of ASEAN. She also led preparations for the Philippine participation in the first Special ASEAN Australia Summit in Sydney in 2018 which was attended by then Secretary of Foreign Affairs Alan Peter Cayetano and Cabinet secretaries.
Under the one country team approach, she led Philippine trade and investment promotion efforts in her places of assignment. During her tenure as Ambassador to Australia, the flights between the Philippines and Australia expanded with the inauguration of the Manila to Melbourne flight of Cebu Pacific.
As Assistant Secretary for Asian and Pacific Affairs covering bilateral relations with Australia, she was instrumental in the elevation of Philippines Australia relations to a Comprehensive Partnership in 2015.
Ambassador Calaguian-Cruz is known for her strong support for migrant workers and overseas Filipino communities having initiated the Post Arrival Orientation Seminar (PAOS) for Filipino workers in foreign service posts. She implemented programs on personal finance, health, care for the elderly and women empowerment to support overseas Filipinos.
Ambassador Calaguian-Cruz was at the forefront of Philippine public and cultural diplomacy. In Australia, she facilitated the tours of performance, design and visual artists namely, Bayanihan, the National Folk Dance Company (2016); Illongo fashion designers (2017); Loboc Children's Choir (2018); Mebuyan (2018); and, Kublai Millan (2018) while also supporting Filipino Australian artists.
She is an advocate for humanitarian causes working with non-government organizations in the Philippines and overseas. She is a Champion for the House of Hope in Davao City, a transient home in Davao City for children with cancer providing holistic services to families affected.
She is a recipient of the Philippine Presidential Award, Gawad Mabini (Rank of Kasugo) in 2007. She was recognized by the University of the East as an Outstanding Alumni Awardee in 2006. She received numerous awards and citations from organizations in Singapore during her tenure as Philippine Ambassador to Singapore. Ambassador Calaguian-Cruz is a graduate of the University of the East with an AB in Political Science. She earned her MA in Political Science from Manuel L. Quezon University and MA units in British Government and Politics from the City of London Polytechnic, UK.
She is married to Ambassador Luis Cruz and has two children, Carlo and Natasha.