Ambassador Mariano Ezpeleta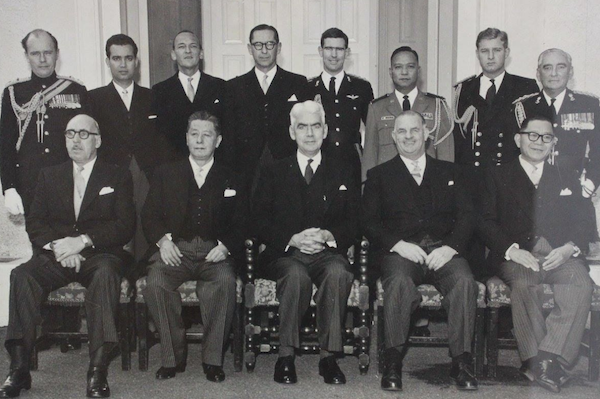 Ambassador Mariano Ezpeleta served as Philippine Ambassador to Australia and non-resident Minister Plenipotentiary to New Zealand from May 1960 to 15 November 1970. He presented his credentials to Australian Governor General Lord Dunrossil on 19 May 1960.
In a letter to Her Majesty Elizabeth II dated 26 March 1960 on the appointment of Ambassador Ezpeleta, then Philippine President Carlos P. Garcia wrote, "My knowledge of his high character and ability gives me entire confidence that he will constantly endeavor to advance the interests and prosperity of both Governments."
During Ambassador Ezpeleta's term, the Philippine Embassy officially moved to its permanent location in 1 Moonah Place Yarralumla ACT 2600 on 31 January 1964. On 12 June of the same year, the Philippine Embassy in Canberra was officially inaugurated. The Chancery and Ambassador's Residence were constructed along modern architectural lines prepared under the direction of Mr. Federico Ilustre. This was the first Philippine Government construction abroad.
Ambassador Ezpeleta would oversee a number of high-level visits including the visits of Australian Minister for External Affairs Gordon Freeth (1969), Minister for Shipping and Transport Mr. P.R Lynch (1969), and Speaker of the House of Representatives Mr. W.J Aston (1969).
During this period, the Philippines and Australia were both members in regional bodies such as Southeast Asia Treaty Organization (SEATO), Asian and Pacific Council (ASPAC), Economic Commission for Asia and the Far East (ECAFE), Asian Development Bank (ADB) and the Colombo Plan.
He proposed the assignment of a Philippine commercial attaché and trade promotion officer to Australia and the conduct of trade missions to Australia to improve trade and investment relations between the two countries. The Office of the Trade Promotion Attaché was eventually opened in July 1963. He likewise supported the organization of the Australian Philippines Association in Sydney in 1962 to promote trade relations.
In 1963, the Philippine Embassy published the first issue of the Philippine News Bulletin, a fortnightly publication on information about the Philippines distributed all over Australia. It was during his term that the Bayanihan Dance Troup would perform in Australia for the first time in 1964 in Adelaide, Melbourne, Sydney, Brisbane and Canberra.
Ambassador Ezpeleta was the dean of the diplomatic corps in Canberra in 1967.
Prior to serving as Philippine Ambassador to Australia, he was the Ambassador to Thailand and Malaya (1958-1960), Ambassador to Vietnam with concurrent jurisdiction over Cambodia and Laos (1956-58), and Minister Plenipotentiary to Mexico (1953-55). His earlier overseas assignments included Shanghai, San Francisco, and London.
Ambassador Ezpeleta was a lawyer and served as Congressional Secretary and Political Adviser to President Manuel A. Roxas, 1946-47.
Sources: Ezpeleta, Mariano Bundle. DFA Personnel Files Collection. Department of Foreign Affairs Archives.