Ambassador Delia Domingo Albert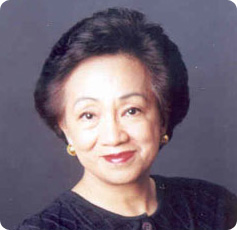 H. E. Delia Domingo Albert is a career diplomat and has represented the Philippines in various capacities in Switzerland, Romania, Hungary, the former German Democratic Republic, the Federal Republic of Germany and the Commonwealth of Australia with concurrent accreditation to Nauru, Tuvalu and Vanuatu. She served as Dean of the Diplomatic Corps in Australia in 2001 . Before her appointment on 22 December 2003 as Secretary of Foreign Affairs, she served as Undersecretary for International Economic Relations and Philippine Senior Official for the Asia-Pacific Economic Cooperation (APEC).
She attended the University of the Philippines as well as academic institutions in Europe, namely: the Institute for International Studies in Geneva, Switzerland; the Diplomatic Institute in Salzburg, Austria; Boston University Overseas in Bonn, Germany, the Institute of Political Science and Strategic Studies in Kiel, Germany and the J.F. Kennedy School of Government at Harvard University. Having attended language courses in Tokyo, Geneva, Bucharest and Bonn, she speaks English, German, French, Romanian, Spanish and Japanese in addition to her national language, Filipino.
She began her career in the Department of Foreign Affairs as Assistant in the Office of the Secretary of Foreign Affairs in 1967 and passed the Foreign Service Officer's Examination in1973.
During her diplomatic assignment at the Philippine Mission to the United Nations in Switzerland, she attended conferences of the various United Nations Specialized Agencies both in Geneva and Vienna as well as conferences at the United Nations in New York.
In the home office she served as Director-General of the ASEAN National Secretariat of the Philippines. In that capacity she participated in various ASEAN meetings as well as ASEAN and APEC Summits. She served as Secretary-General of the Conference Secretariat of the4 th APEC Economic Leaders - Meeting in the Philippines in 1996 for which she was commended by the Philippine Senate in its Resolution No. 9of 28 November1996 . On 27 January2004 , H.E. President Gloria Macapagal-Arroyo conferred on her the Order of Sikatuna, with the rank of Datu, for her exceptional and meritorious services to the Republic of the Philippines.
In recognition of her efforts in promoting Philippine relations with Germany as well as relations between ASEAN and the European Union, she was awarded the Knights Commanders Cross of the Order of Merit with Star of the Federal Republic of Germany in1992.