Ambassador Cristina G. Ortega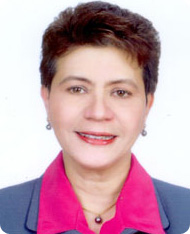 H. E. Cristina G. Ortega was the Ambassador Extraordinary and Plenipotentiary of the Philippines to the Commonwealth of Australia from 2003-2006, with concurrent accreditation to the Governments of Nauru, Tuvalu and Vanuatu.
While Australia is her first ambassadorial posting, Ambassador Ortega's diplomatic career already spans close to thirty years. Her first government organisation, the Department of Trade and Industry (DTI), assigned her as Commercial Analyst and then Commercial Attache at the Philippine Embassy in Paris, France from 1972-1978.
The DTI subsequently assigned her as Foreign Trade Representative and then Special Trade Representative at the Philippine Consulate General in Los Angeles (1978-1984) and at the Philippine Embassies in Paris (1984-1986) and in Brussels (1988-1991). During her home assignment, she headed the Foreign Trade Service Corps of the DTI (1986-1988).
Her economic expertise and trade promotion skills enabled her to top the Foreign Service Officers Examination in 1982 but it was only in 1991 that she joined the Department of Foreign Affairs, already with a mid-level rank.
Ambassador Ortega served in various capacities at the Department of Foreign Affairs and at Philippine posts abroad. From 1993-1994, she headed the Economic Diplomacy Unit (EDU) of the Department while serving as Special Assistant to the Secretary of Foreign Affairs.
As Career Minister and Consul, she headed the trade and investment promotion units at the Philippine Consulate General in New York (1994-1997). From New York, she was assigned to the Philippine Embassy in Beijing (1997-1999) as Deputy Chief of Mission and Consul General. From 1999-2001, she was Career Minister/Consul and then Deputy Consul General at the Philippine Consulate General in Los Angeles, when she was promoted to the rank of Chief of Mission, Class II. At that time, she was in charge of economic promotion and political matters. Back at the home office, she served as Executive Director and then Assistant Secretary for the Office of American Affairs (2001-2003).
Ambassador Ortega attended various seminars and skills training in the Philippines and abroad and represented the country in various regional and multilateral conferences. From 1996-1997, she served as Chief of Staff of the APEC Substantive Group at the APEC SOM and Chief Coordinator of APEC Special Projects during the Philippine hosting of APEC in 1996.
Ambassador Ortega graduated with AB Political Science and BS Foreign Service degrees from the University of the Philippines in 1970. She achieved a post-graduate degree (Master of Arts in International Relations) from the University of Southern California in 1983.
In 1994, she received the Presidential Award for Outstanding Foreign Service Officers called the Gawad Mabini Award, Rank of Dakilang Kasugo.
Ambassador Ortega, who is single, was born in Quezon City in Metro Manila.