PRESS RELEASE
Philippine Embassy, Canberra

1 Moonah Place, Yarralumla, ACT 2600
www.philembassy.org.au    *Tel. No. 02-6273-2535*
---
Virtual International Forum to Celebrate the Resilience of Overseas Filipinos held on 24 November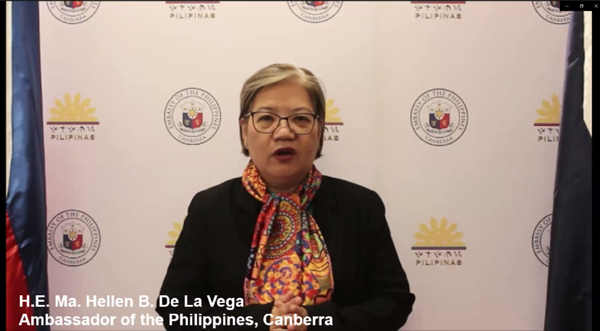 25 November 2021 – H.E. Ma. Hellen B. De La Vega, Philippine Ambassador to Australia, led the online forum held on 24 November on the various programs and services of the Philippine government for overseas Filipinos.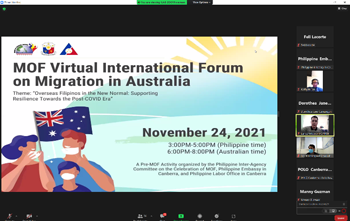 Organized in cooperation with the Inter-Agency Committee on the Celebration of the Month of Overseas Filipinos (IAC-MOF) and the Labor Office in Canberra (POLO-Canberra), the forum focused on the government services that supported overseas Filipinos during the pandemic and helped build resilience among Filipino communities abroad. The theme of the forum was "Overseas Filipinos in the New Normal: Supporting Resilience towards the Post-COVID Era".

The forum also featured Filipino community leaders in Australia who shared stories of bayanihan that provided support to international students and stranded seafarers and all those severely impacted by the pandemic and lockdown. The Ambassador noted that at 300,000 strong, the Filipino community represents the fifth largest migrant community in Australia. Many of them are healthcare workers and frontliners who have significant contributions in terms of pandemic response.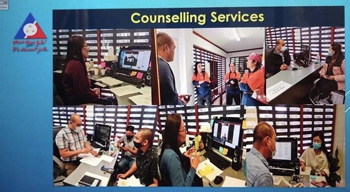 The forum was attended by 100 participants. Ms. Carmelita G. Nuqui, the Chair of IAC-MOF, delivered the opening message while Consul General Aian Caringal and Labor Attaché Felicitas Bay presented the programs and assistance provided on the ground for Filipinos in need in Australia. The resource persons included Dr. Kathryn Natalie Tan, National Center for Mental Health (NCMF), Dir. Ivy Miravalles, Commission on Filipinos Overseas (CFO), Mr. Santiago S. Lim and Ms. Licelle T. Tornista, Department of Trade and Industry (DTI), and Mr. Mohammed Amaluden M. Abdul Gaffor, Bureau of Immigration (BI).

Among the topics discussed were ways to protect mental health, preventing domestic violence, anti-human trafficking of marriage migrants, investment opportunities for returning overseas Filipinoss, and travel guidelines for overseas Filipinos and foreigners visiting the Philippines.

The forum provided an opportunity for Philippine government officials and the Filipino community in Australia to exchange relevant information and experiences during the pandemic. END