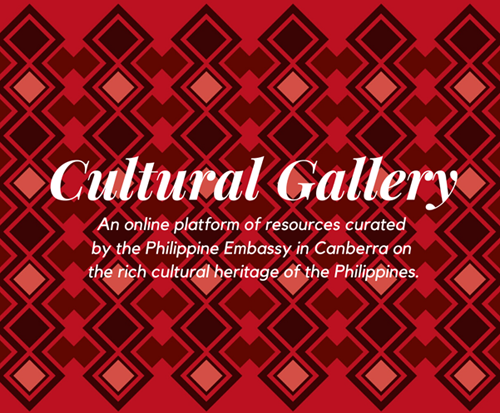 12 June 2020 – In celebration of the 122nd Anniversary of the Proclamation of Philippine Independence, the Philippine Embassy in Australia with the Department of Tourism in Sydney launches the Cultural Gallery as a permanent part of the official website of the Philippine Embassy.
The Cultural Gallery is an online platform of resources curated by the Embassy for the Filipino-Australia community and anyone interested to learn more about the rich cultural heritage of the Philippines. We invite you explore this webpage for videos, photos and activities on Filipino cuisine, art, tourism, language and many more.
The Embassy partnered with Kublai Millan, Adarna House and Mama Sita's for activities that families can do in the comfort of your own homes starting today.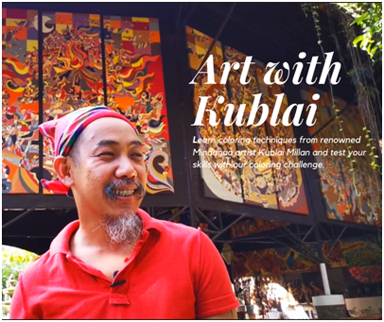 Art with Kublai

Kublai Millan is a prolific artist from Davao and is known for the monuments that have become important cultural landmarks in Mindanao. Kublai has played a significant role in creating expressions to bring unity to the diverse spiritual cultures of Mindanao.

In this video, Kublai shares with us his coloring techniques. We invite you to take on our colouring challenge with drawing by Kublai. Choose among the five coloring pages in the website, color it using what you have learned from Kublai and post it on social media using the hashtag #Kalayaan2020 and tag @PHinAustralia by 30 June 2020. We will feature all your work in a slideshow in July 2020.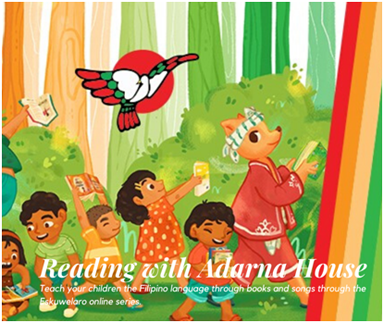 Reading with Adarna House

Founded by National Artist for Literature Virgilio Almario, Adarna House is a leading publisher of children's books and Filipino literature in the Philippines.

In this video series, kids can attend Eskuwelaro to sing along Filipino songs, listen to FIlipino stories and learn the Filipino language. Eskuwelaro is a play on two Filipino words, Eskuwela which means school and Laro which means play.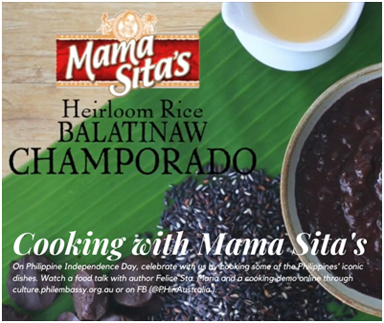 Cooking with Mama Sita's

Mama Sita's, a well-known Filipino brand of sauces and mixes, brings to the world the flavors of the Philippines. Celebrate Philippine Independence Day by cooking some of the Philippines' iconic dishes.

In this video, culinary historian Felice Sta. Maria gives a talk on heirloom rice champorado to be followed by a cooking demonstration. Mama Sita products are available in over 2,000 retail outlets in Australia and New Zealand.
The Cultural Gallery is now available online through cultural.philembassy.org.au
END