PHOTO RELEASE
Philippine Embassy, Canberra

1 Moonah Place, Yarralumla, ACT 2600
www.philembassy.org.au    *Tel. No. 02-6273-2535*
---
INVITATION TO THE PHILIPPINE BUREAU OF THE TREASURY'S ONLINE FINANCIAL LITERACY SESSION ON RETAIL BOND OFFERING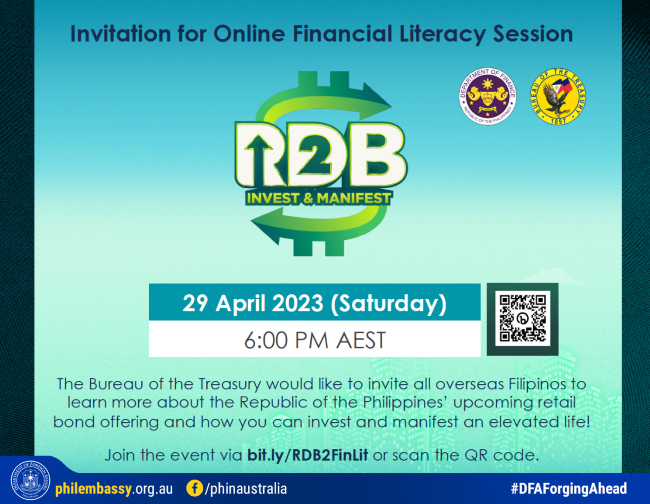 22 April 2023, CANBERRA - Interested in investing and manifesting an elevated life? The Philippine Bureau of the Treasury invites overseas Filipinos to its online financial literacy session on 29 April 2023 (Saturday) at 6:00PM AEST.

The session will provide information about the Philippine government's upcoming retail bond offering and how you can take advantage of this opportunity to invest. Participants will also gain a deeper understanding of the government's efforts to create more inclusive and accessible investment opportunities for overseas Filipinos. This is your chance to join and contribute to the country's economic growth while also securing your financial future.

Don't miss out on the opportunity. Join the event via bit.ly/RDB2FinLit or scan the QR code.

You may also check the guide on opening a US Dollar Account via Landbank or the OF Mobile Banking Applications.