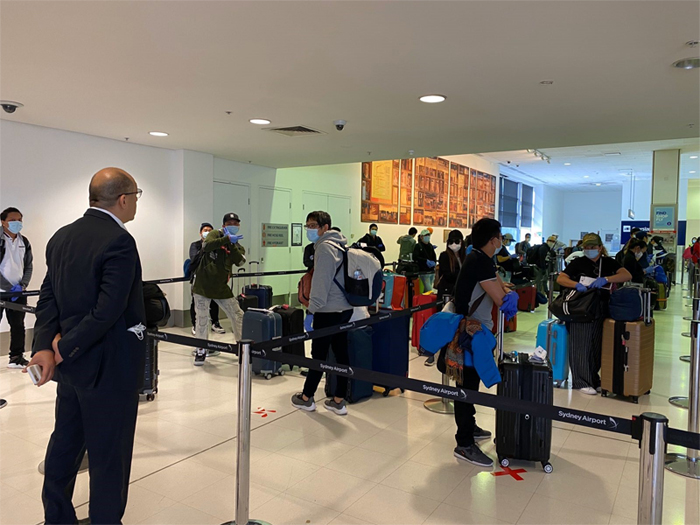 The Philippine Embassy in Canberra and the Philippine Consulate General in Sydney are pleased to announce that around 360 Filipino crew members of the cruise ship Ruby Princess today boarded a special chartered Cebu Pacific flight from Sydney and are now headed home to the Philippines.
The Ruby Princess had been docked in Port Kembla, south of Sydney, since 6 April with its crew, including over 500 Filipino nationals, on board under quarantine. Several crew members were disembarked during that period to receive special medical attention, while the rest remained on the ship as they underwent necessary health monitoring and examinations.
Australian and New South Wales police and health authorities, together with cruise line operator Carnival Australia and the ship's local manning agency, worked with the Philippine Embassy in Canberra, the Philippine Consulate General in Sydney, and the Philippine Overseas Labor Office in Australia towards the continuing care and subsequent safe repatriation of the Filipinos. All those who boarded today's chartered flight had been cleared to travel back to the Philippines by the Australian offices. Over 100 other Filipino nationals remained on board as essential crew required to operate the vessel towards its next destination.
Philippine Consul General in Sydney Ezzedin Tago and Labor Attaché Cynthia Lamban were on hand to see the Filipinos off from Sydney International Airport. They reported that the departing kababayans appeared to be in good spirits and eager to get home.
"We are happy at today's result", said Consul General Tago "as it provides a measure of certainty as to the future and welfare of our Filipino nationals." He added "we are thankful to all the Philippine and Australian offices involved for working out an outcome that will bring Filipinos back to their homes and families." (END)