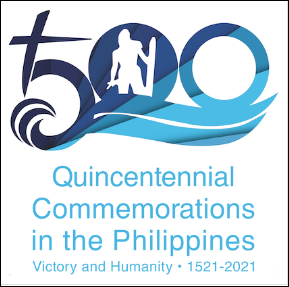 CANBERRA, Australia (12 August 2020) – The year 2021 is a landmark year as the Philippines celebrates the 500th anniversary of the Victory at Mactan and the role of the Philippines in the first circumnavigation of the world.
The Philippine Embassy in Canberra invites everyone to the official Facebook page of the National Quincentennial Committee of the Philippines (@nqc2021) to participate in online lectures on Philippine culture and history.
A special online program led by Deputy Speaker of the Philippines House of Representatives Hon. Loren Legarda features "Road to 500: A Philippine Quincentennial Special" on the different aspects of the country's preparation for the quincentennial and aims to educate the public on the pre-colonial history of the Philippines. Road to 500 may be accessed at the official Facebook page of Deputy Speaker Legarda (@conglorenlegarda).
Viewers may follow the program as scheduled in Philippine time:
| | |
| --- | --- |
| 19 August, 10:00 AM | From Magellan to Quezon: Our Heritage of Compassion |
| 08 September, 10:00 AM | Road to 500 |
| 15 September, 10:00 AM | Our Ancestors and the Peace Process |
| 14 October, 10:00 AM | Interesting Things in the Museums of the National Historical Commission of the Philippines |
| 24 October, 10:00 AM | The Filipino as Humanitarian Champion |
| 27 October, 10:00 AM | Road to 500 |
| 05 November, 10:00 AM | Resurrecting the Balangays through Sama Bajau Indigenous Boar Building Technology |
| 17 November, 10:00 AM | Road to 500 |
| 25 November, 10:00 AM | Learnings from Pigafetta's Account of the First Circumnavigation of the World for Teachers |
| 02 December, 10:00 AM | Seeing Our Ancestors in our Traditions and Customs |
| 09 December, 10:00 AM | Tattooing in the Life of our Ancestors |
| 15 December, 10:00 AM | Road to 500 |
The quincentennial celebrations highlight the significant role of the Philippines in the world maritime history and an important moment in East-West encounter. -- END