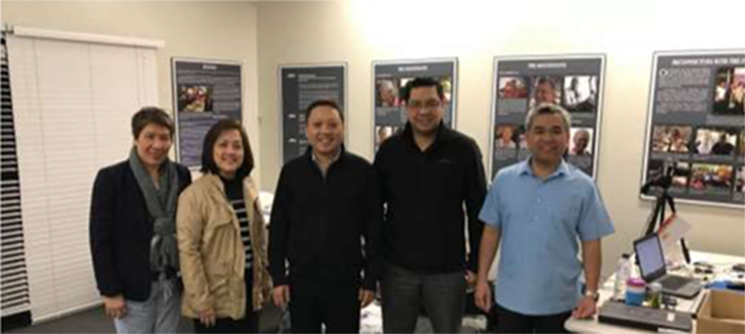 (L-R) Ms Gloria Celis, Ms Rowena Sierra, Consul Jim San Agustin, Mr. Roderick Sierra and Mr. Ruel Penaflorida
The Philippine Embassy rendered consular services to a total of one thousand eighty one (1,081) consular clients in Perth, Western Australia from 2 to 6 July 2018.
The Consular Mission was headed by Consul Jim B. San Agustin and included Mr. Roderick Sierra, Mr. Ruel Penaflorida, Ms. Rowena Sierra and Ms. Gloria Celis.
The Perth Mobile Mission team, with the support of the PH Honorary Consul, Mr. Michael Gillis, his staff and volunteers from the Filipino Community, attended to 1,020 Philippine ePassport applicants and administered the oath of allegiance to sixty-one (61) applicants who reacquired their Philippine citizenship under Republic Act No. 9225 or the Citizenship Retention and Re-acquisition Act of 2003.
The next Mobile Mission to Perth is in November 2018.