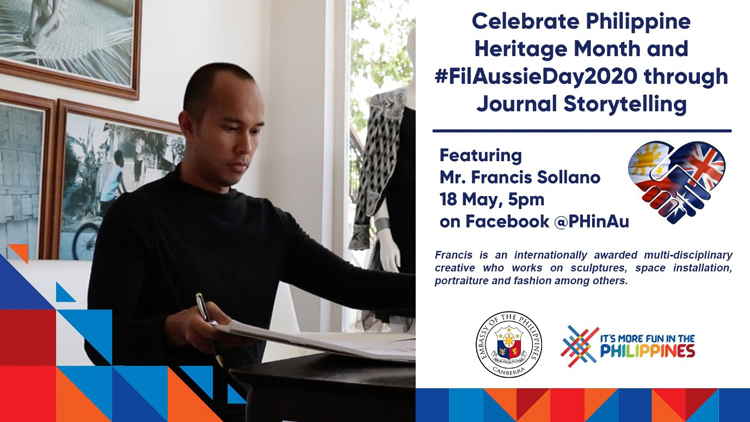 14 May 2020 – In celebration of National Heritage Month and Philippines-Australia Friendship Day, the Philippine Embassy in Australia with the Department of Tourism in Sydney will launch an online video series featuring Philippine Heritage Advocates from May 18 – 31, 2020. The series will highlight the importance of sharing knowledge, experiences and stories of the different aspects of Filipino heritage and celebrate the warm and special friendship of the Philippines and Australia.
Join us for the launch of the series on May 18, 5pm (AEST) with Mr. Francis Sollano who will teach us how to create our own journal of cherished memories using a storytelling method. His form of creative expression is particularly useful for many individuals and families who are staying home at this time.
Francis is an internationally awarded multi-disciplinary creative who works on sculptures, space installation, portraiture and fashion. He is known for his contemporary takes on upcycling garbage into wearable art. He was the featured international designer by DESIGN Canberra in 2016 which coincided with the 70th Anniversary of PH-AU relations.
Visit https://www.facebook.com/PHinAustralia/ for more information. END