The Philippine Consulate in Melbourne joined the Filipino community of Victoria, Australia, in an online event 12 June to celebrate the 123rd anniversary of Philippine independence.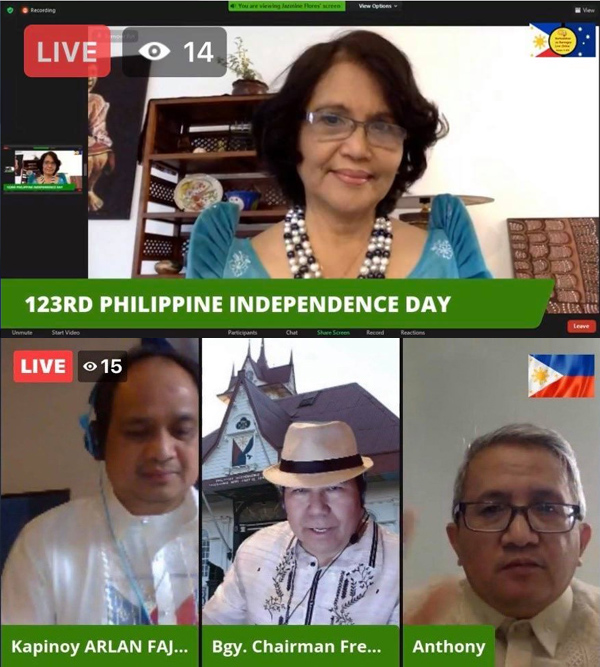 Consul General Maria Lourdes Salcedo and Deputy Consul General Anthony Mandap join broadcast anchors Arlan Pineda Fajardo and Fred Jover in the virtual flag ceremony and dialogue marking Philippine Independence.
Consul General Maria Lourdes M. Salcedo, along with Deputy Consul General Anthony Mandap, joined the virtual event marking the occasion honoring the Philippine flag.

The event was a joint project with two social media broadcast programs, Pinoy Ako Pinoy Tayo Radio, anchored by Arlan Pineda Fajardo and Walter Villagonzalo, and Barangay Teleradyo, hosted by Fred Jover.

In her message, Consul General Salcedo reminisced the bittersweet memories of our history, reminding us of those who stood tall and fought that we may live as a free nation. "In moving forward, we can look back. The wit, faith and resilience of our ancestors are abounding lessons in life," she said. The Consulate team also used the occasion to spread information on the Consulate's various services and projects.

The virtual event was staged in lieu of what was supposed to be a public gathering and flag-raising at Melbourne's famous Federation Square, which was cancelled due to prevailing COVID-19 restrictions imposed by the Victoria state government.

Consistent with tradition, however, eight Philippine flags were hoisted at the square on the eve on June 12, to honor the Filipino nation in the city. The flags drew crowds of Filipino pedestrians and motorists, many of whom stopped to take photographs.

The Consul General also hosted a simple lunch for the Consulate team, who rendered consular service in the afternoon on the Philippine holiday to serve clients whose appointments were cancelled due to the two-week snap lockdown.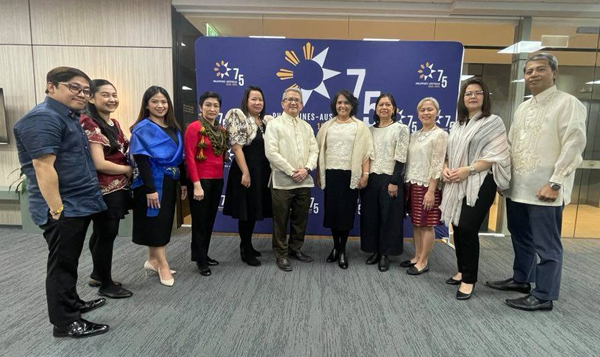 The officers and staff of the Philippine Consulate General in Melbourne.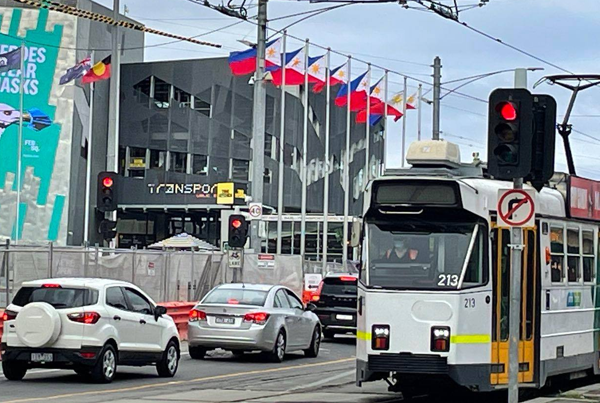 Eight Philippine flags flying in Melbourne's Federation Square to mark Philippine independence.
On the same day, a documentary produced by the Department of Foreign Affairs entitled, "Lessons for a Changed World: The Legacy of the Indigenous People of the Philippines" was also shared in the official Facebook account of the Consulate.

The documentary cast the limelight on outstanding members of Filipino indigenous communities and highlighted their contributions to the mainstream Filipino and world cultures. END