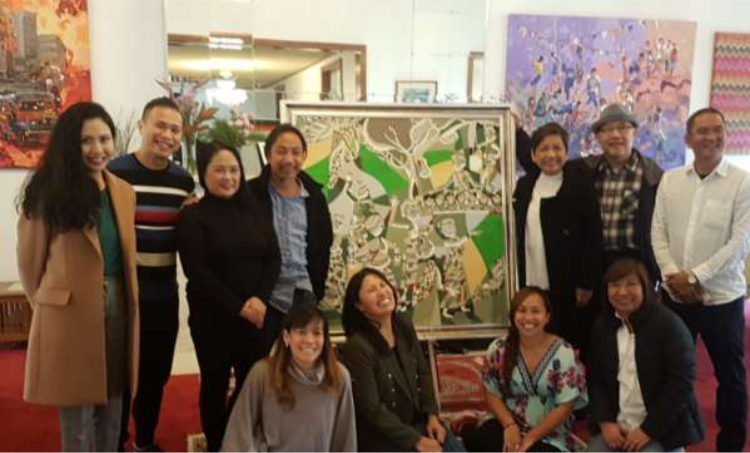 (L-R) Third Secretary and Vice Consul Nicole de Castro, Dr. Rojim Sorrosa, Dr. Mae Dolendo, Mr. Rey "Kublai" Millan, Ms. Cheryl Gomez, Ms. Gauss Obenza, Ms. Maan Chua, H.E. Minda Calaguian-Cruz, Mrs. Beth Arcena, Ambassador Luis Cruz and Mr. Gene Arcena witness the donation the painting Kalagan Ensemble by Davao artist Kublai Millan.
Down South Down Under features pastoral scenes and people from Mindanao and were exhibited for the benefit of the House of Hope Foundation for Kids with Cancer. Kublai Millan is a prolific artist from Davao and is known for the monuments that have become important cultural landmarks in Mindanao. Kublai has played a significant role in creating expressions to bring unity to the diverse spiritual cultures of Mindanao.
On 14 June 2018, Kublai donated his painting from the exhibit, called Kalagan Ensemble to the Philippine Embassy in Australia and will be permanently displayed in the Embassy premises. H.E. Minda Calaguian-Cruz, Philippine Ambassador to Australia, said the painting will share the beauty of the Mindanaoan art and culture which can be shared with future generations.