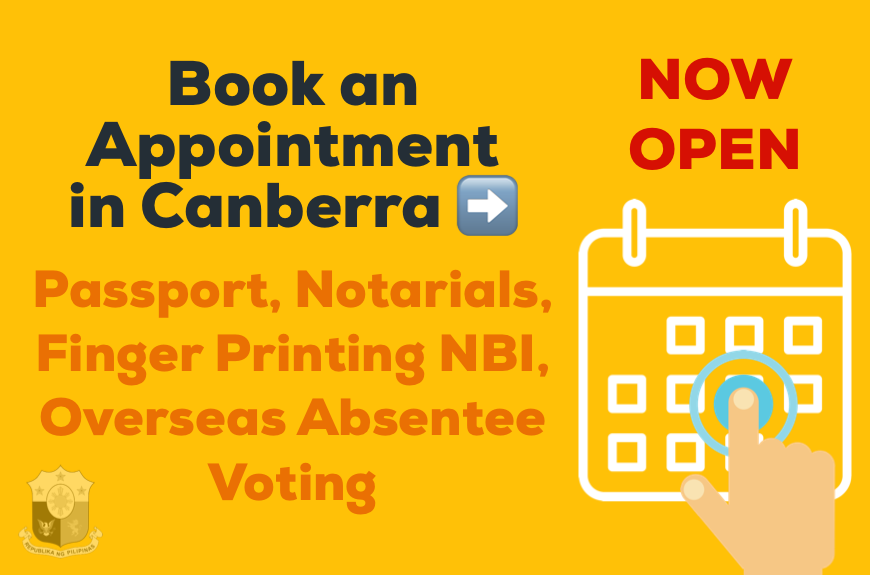 I. Book online here
https://booking.philembassy.org.au
II. Venue
Philippine Embassy in Canberra, 1 Moonah Place, Yarralumla ACT 2600
III. Services
The Embassy Appointment System is open to the following services:
Passport
Notarials or Legalisation
Finger Printing for NBI Clearance
Overseas Absentee Voting

For other services including passport extension, visas, dual citizenship, report of birth, report of marriage and report of death, please visit "Consular" menu of www.philembassy.org.au
IV. Slots
Monday-Friday 10:00am - 2:45pm excluding weekends and holidays
V. Cancellation Policy
We understand that unavoidable circumstances arise, appointments may be cancelled or rescheduled by logging into the Philippine Embassy Appointment System https://booking.philembassy.org.au and go to "My Appointments" > "View Details" or send a cancellation request through email passport@philembassy.org.au or give us a call at 02-6273 2535 ext. 259.
Payment is not required to secure an appointment.